Facility named Best Post Production House as it gears up to open third premises in Soho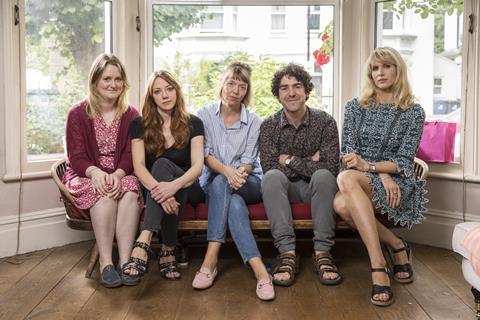 When Halo Post was crowned Best Post Production House at this month's Broadcast Awards, it was the third time in six years that the facility had won the coveted prize.
It's a remarkable achievement for the independent facility that was founded 14 years ago and is set to open its third building in Soho this year. The opening of the new premises on Dean Street in April comes 18 months after Halo expanded with a facility on Brewer Street.
However, the team at Halo Post said there are no further plans for expansion. "Halo is not aiming for world domination," said founder and chief executive John Rogerson, stressing that the business has tried to maintain a boutique feel.
At a time when many other facilities are mulling a move into the nations and regions, Halo is staying put in London. "London is where our clients are. Other facilities are having a punt, but at the moment, we have got our hands full here."
Rogerson added: "There is a maximum size we can be. It's very important that Halo remains personal. If you lose the personal touch, you become a corporation."
Halo has a core staff of around 75, working across multiple genres. Its bread and butter is factual and factual entertainment, with credits ranging from Channel 4's Come Dine With Me to Netflix's Sunderland 'Til I Die and the upcoming BBC series The Planets with Brian Cox.
It has also pushed into comedy (Motherland (pictured above), Murder In Successville), feature docs (Bros: After The Screaming Stops), features (Stan And Ollie) and has just posted three dramas (Luther, Selection Day and Bulletproof).
These are the kinds of credits that are noted by the wider industry. "We were so pleased for John and his team at Halo that they won the Best Post award again this year," said The Farm founder Nicky Sargent. "It was well deserved. They've done some great work this year."
Will Garbutt said the facility's independence could be one of the key reasons for its Broadcast Awards wins. "The owners of the company are still on the shop floor every day," he said, adding that the company retains a focus on creativity. "We are passionate about what we do, rather than being the shiniest, most state-of-the-art facility in terms of décor and aesthetics. However, we recognise those elements are important too, and we're working over the next 12 months to improve."
The new Dean Street building, which has big open floors, a roof terrace and breakout spaces, will help to accommodate Halo's expanding workload and improve its offer to clients. Garbutt said when orders picked up after April last year, Halo had to make use of pop-up offices.
A decision to invest heavily in fast storage and technical staff about three years ago has paid off, according to Rogerson. Post-production has, he said, become a lot more complicated, with more advanced cameras and deliverables such as UHD and HDR, driven in part by streamers such as Netflix. Efficient and flexible workflows that can deal effectively with this complexity save producers' time and money. "That is when you win with clients."
Expert training
Rogerson said Halo wants clients to walk away having learned something. The facility offers 'Post Unwrapped' events – free sessions, hosted by in-house experts, that cover the technical and practical impact of advanced workflows, including UHD and HDR, on production schedules and budgets.
Rogerson described the sessions as the equivalent of 'post for dummies'. They are open to clients and non-clients alike, and are a way of helping out producers at a time when training is not widely available. "UHD and HDR are complicated. Education is key to how we sell the company. We get in front of clients early and talk them through it, explaining in layman's terms rather than trying to befuddle them."
Despite its Broadcast Awards win, Halo isn't sure how business will pan out over the next year. "You can never be complacent in this industry," said Garbutt. "Brexit is looming and down the line it will almost certainly affect us."
Rogerson added that although business is "brilliant" now, it's difficult to see much further than two months ahead in post-production. For now, the company is being careful about its cap-ex spend and focusing on holding onto its creative assets. "Growth now is about making it nicer for the clients we have," he said.