Post-production house is using the videoconferencing app to mentor students on film and television production courses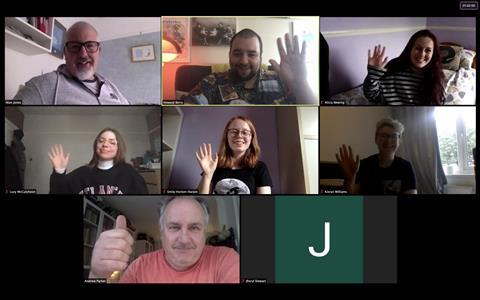 Halo has kicked off a mentoring scheme with Hertfordshire University during lockdown, running sessions via Zoom.
Students from the university's Film and Television Production courses have been mentored by key personnel from the post-production house about how to gear up for a career in the industry.
So far, Zoom mentoring sessions have been given by CEO and dubbing-mixer John Rogerson, owner and online editor Alan Jones; and colourist Ross Baker.
Halo had previously visited the university and been impressed by its facilities and courses, and had been looking to build up a relationship.
Halo head of business Matt Locke told Broadcast: "When we first entered into lockdown, I was looking into different ways to give back to the film and TV industry, and these mentor sessions between Halo and Herts University students were a perfect way for undergraduates to learn about the skillsets of Halo creatives, and be given advice about careers in post-production via Zoom."
Andrew Parker, programme leader for the BA Film and Television Production course, said: "Our relationship with Halo gives our students an invaluable direct line into industry practice. Students can relate their craft training at university with what is happening right now in a busy, in-demand post house. This bridge between theory and practice means that students already know what will be expected of them in a professional capacity, long before they graduate."
Howard Berry head of post-production, MA Film and Television programme leader, adds: "One of the most vital things our students learn is that post-production doesn't happen with one person working alone on their computer, but with creative experts working in teams across a variety of platforms to produce the content we watch. Having the opportunity to speak directly to experts at Halo has been an amazing experience. We hope that once the lockdown ends, we can continue to work in partnership with Halo and produce the next generation of post-production talent together."