8K cameras and kit were on display from all the leading manufacturers at the Amsterdam trade show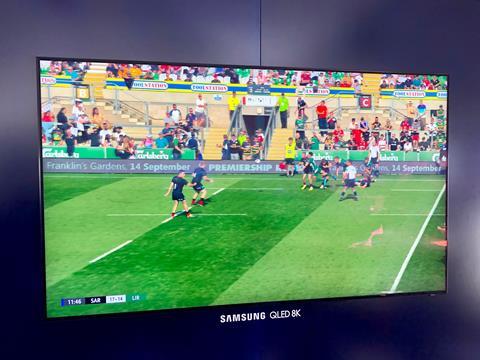 While IBC 2019 isn't likely to go down in the annals of trade show history as an outstanding one for headline-grabbing new products, it was one of the most interesting in validating that future-oriented trends such as 8K are fast finding a foothold in the market.
From being a largely theoretical and highly impractical possibility only a few years ago, 8K is becoming a genuine option for acquisition and broadcast.
This appetite for 8K on TV is predominantly driven by Japanese broadcaster NHK, which started broadcasting 8K content regularly at the beginning of the year. It also plans to showcase 8K during the Tokyo 2020 Olympics.
Furthermore, there's demand for 8K in the AV market, and it's beginning to have an impact on feature film production too, with Danny Boyle's Yesterday shot entirely in the format, to future-proof the content and enhance the quality of the 4K master.
The film was shot on the Red Weapon 8K camera, and camera manufacturers at IBC 2019 were all keen to demonstrate their 8K credentials.
Many exhibitors showcased professional 8K cinematography cameras that are either already shipping or are late-stage prototypes. And throughout the vast halls of the RAI were other essential pieces of the 8K production jigsaw, including displays, lenses, vision mixers and storage devices specifically designed to cope with 8K content.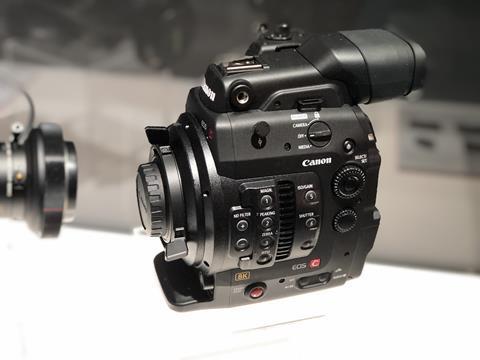 Somewhat hidden away in a glass case towards the back of Canon's stand was a three-product pairing of an 8K Canon EOS camera (pictured above), lens and monitor.
The Canon 8K Camera System is the first 8K camera in its Cinema EOS range, with the manufacturer promising "incredible true 8K [a resolution of 8192 x 4320] videos" at up to 60 frames per second. The 8K lens gives "unrivalled clarity and sharpness", according to Canon.
While the camera isn't on the open market and, according to the Canon Europe website, "cannot be purchased today", Canon European product manager Ryuhei Kamata told Broadcast: "While the products aren't listed for sale, it's possible to order the 8K camera, lens and display, and we've sold some already."
Over on Panasonic's stand, there was a significant focus on 8K developments. Taking centre stage was its new 8K ROI (Region of Interest) camera system, which the company claims will "change the landscape of broadcast production".
The 8K ROI system produces four different HD 'virtual camera' crops from the wide-angle, large-canvas 8K camera image.
The system incorporates automated picture correction technology, which corrects any distorted images so they are "cropped with a natural, cut out, full-HD image", according to Panasonic.
The system includes an 8K multipurpose camera (AK- SHB800), a processing unit (AK-SHU800) and framing control software (AK-SFC101), which together will cost ¤130,000 (£115,000) when it goes on sale later this month.
Panasonic Professional Camera Solutions field marketing specialist Oliver Newland said: "It comes in a box camera format and gives you four simultaneous HD images and one big 8K image. You can pan and scan around the HD images and cut between the virtual cameras. The system is well suited for live events and sports – it would be great for basketball and tennis – helping to improve production value and coverage captured from a single camera operator."
Panasonic also demonstrated 8K Organic Sensor technology at IBC 2019, which is being developed for use during the Tokyo 2020 Olympics. Panasonic said the USPs of its 8K organic sensor include a wide dynamic range for more colours and higher quality images, and a global shutter that removes the skew when shooting fast-moving images.
Tying all the different elements of 8K production and broadcast together, BT Sport used IBC to demonstrate one of the world's first live 8K sports broadcasts – of the Gallagher Premiership Rugby 7s tournament (pictured top).
The images were captured in 8K on a single Ikegami SHK-810 8K system camera with Fujinon lenses and displayed on an 82-inch Samsung Q950R 8K TV, with the broadcast made possible through partner- ships between a wide range of companies.
These included the Appear TV X10 platform, for encoding, decoding and interfacing to the BT network; the Blackmagic Design ATEM Constellation 8K for vision mixing; and the HyperDeck Extreme 8K HDR for recording. Moov supplied the 8K graphics and Telegenic provided OB support.
BT Sport chief operating officer Jamie Hindhaugh said: "By working with our media & broadcast division and other valued partners, BT Sport is underlining its position not only as a leading broadcaster, but as a leading innovator in the industry."
Blackmagic design director Stuart Ashton added: "While 8K remains an emerging standard, it is the world of sports broadcasting that will set the benchmark for 8K in the future."
Ikegami sales engineer, broadcast & professional video division, David Lieven said: "After producing the world's first 8K hand-held broadcast camera system, we are excited to help realise one of the world's first live broadcasts in 8K."