A filmed panel discussion with IBM, IMG and BBC R&D unpicks the role AI and ML will play in production and media management
A speaker panel including IBM, IMG and BBC R&D debating the potential impact of Artificial Intelligence (AI) and Machine Learning (ML) in the broadcast sector has outlined a number of key applications where AI and ML is already delivering noteworthy cost and time savings.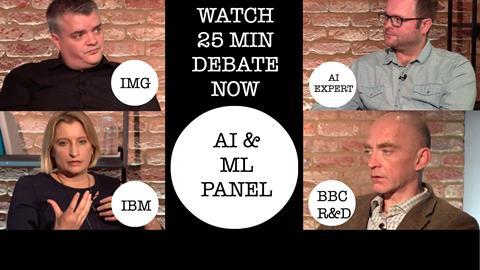 COMPLETE THE FORM BELOW TO VIEW THE FULL 25 MINUTE DEBATE
The discussion revealed how algorithms are being employed in many different areas of production and media management to organise huge archives of unlogged content; to create bespoke sports highlights packages, to auto-generate subtitles; to uncover and expose potential compliance issues; and to automate the production of sports and live events.
The discussion brought together production, technology and AI specialists from across the industry in a filmed debate organised by Broadcast and hosted at TOG Studios in central London.
For daily broadcast sports stories, covering sport production, distribution and tech innovation, visit Broadcast Sport and bookmark the Broadcast Sport homepage, http://www.broadcastnow.co.uk/sport
The panellists were media technology consultant, Neil Anderson; IMG head of engineering Brian Leonard; IBM industry lead for telco, media and entertainment Alison Davis; and BBC R&D head of internet research George Wright.
COMPLETE THE FORM BELOW TO VIEW THE FULL 25 MINUTE DEBATE
They were enthusiastic about the influence AI/ML is currently wielding in updating and speeding up laborious business processes and about its potential in assisting with certain creative processes. While there was acknowledgement the growth of AI/ML would inevitably threaten the long-term future of certain jobs, the general view was there would be a shift away from mundane, repetitive jobs towards better, more fulfilling job opportunities.
Watch the 50-second trailer to the discussion above. To view the full 25-minute debate, please complete the short form below, after which you'll be given full, unrestricted access to the film of the AI/ML panel discussion.
COMPLETE THE FORM BELOW TO VIEW THE FULL 25 MINUTE DEBATE