The production will be set in the Chilean city of Iquique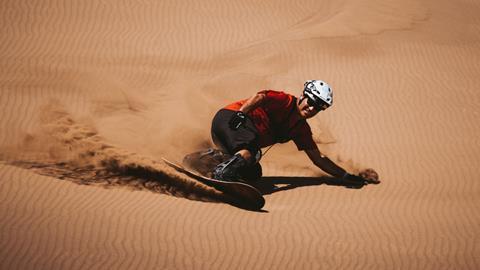 Insight TV has commissioned its first documentary entirely filmed in 8K UHD HDR.
The company filmed segments of its original series Car Crews with Supercar Blondie and 24 Hours at Spa in 8K last year, but this is the first time that they have filmed something entirely in the format.
Sandboarding on Dragon Hill will premiere on Insight TV in June, and is produced by French production company FastFokus. It is the second time that FastFokus have produced a show for Insight TV after MTB Heroes: Trailblazers.
Set in the coastal Chilean city of Iquique, near the Atacama desert, the documentary focuses on Canadian mountain bike legend Brett Tippie as he and his lifelong friend Richie Schley, MTB star and ex pro-skier, see the best sandboarding locations in the area with Iquique local and two-time sandboarding world champion Jose Martinez.
Director of media sales at Insight TV, Natalie Boot, said: "Over the past year, we have experimented with 8K and have been blown away with the results. Sandboarding on Dragon Hill is our first full-length documentary film in 8K UHD HDR and we think viewers will be equally blown away with this film."
Damien Vergez, founder of FastFokus, added: "We are delighted to be working with Insight TV on another adventurous show with some of the world's best mountain biking talent."
Broadcasters are picking up speed with their adoption of 8K technology, with the Tokyo 2020 Olympics planned to be shown in 8K by several organisations.