Immersive specialist acquires key staff, IP and pending patents from Chicago-based Personify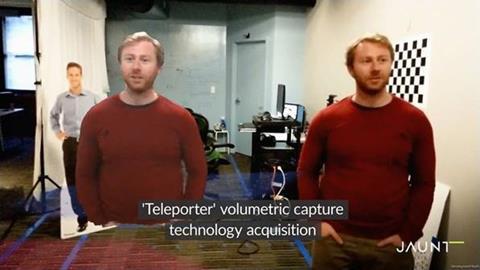 Immersive specialist Jaunt has acquired Personify's Teleporter line of business, including key staff, IP, and pending patents.
Personify is a Chicago-based AR and VR video tech company, with a range of applications for streaming immersive video. This includes Teleporter, a volumetric streaming software system that captures, processes, and streams life-like AR assets in real-time.
As part of the acquisition Jaunt will also be opening a Chicago office focused on R&D, led by Personify's CTO, Simon Venshtain.
Jaunt said the acquisition will support its Jaunt XR Platform, a B2B solution that enables partners to distribute augmented, virtual, and mixed reality assets through their own applications and channels.
"The addition of Personify's Teleporter team and technology allows us to increase the speed and scope of our research and development as we move further into the extended reality arena with the Jaunt XR Platform at the core of our business," said Arthur van Hoff, Jaunt CTO and founder.
Building on the tech it created to deliver its own immersive content, Jaunt has evolved into a B2B-focused company that helps partners create and deliver XR content spanning augmented, virtual, and mixed realities.
Jaunt's investors include The Walt Disney Company, Evolution Media Partners, CMC, Highland Capital Partners, Redpoint Ventures, SMG, Axel Springer, ProSiebenSat.1 SE, The Madison Square Garden Company, Google Ventures, Peter Gotcher, and Sky.