The VFX giant has also taken on Rebecca Manning as VFX supervisor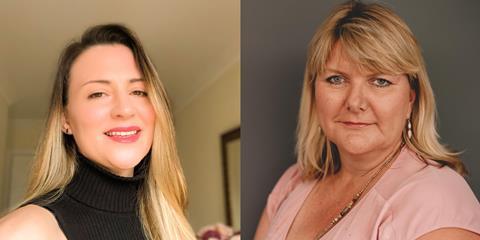 Cinesite has taken on ex-Rushes MD Joce Capper (pictured above right) as its general manager, and Rebecca Manning (pictured above left) as VFX supervisor.
Capper will oversee Cinesite London while working closely with Montreal colleagues and group VFX brands Image Engine and TRIXTER. She joins from Cinelab, where she was creative director.
Manning will also work out of Cinesite's London HQ. She has 18 years of experience with stints at Weta, Framestore, MPC, Digital Domain and Fuse FX. Her credits cover "everything from award-winning feature films such as The Jungle Book, Respect and Avatar to binge-worthy TV like Halston and Walking Dead," said Cinesite.
Cinesite CEO Anthony Hunt said: "Joce is a strategic thinker, for the past two decades she has successfully led teams in delivering multi award winning content across advertising, entertainment and feature films. Joce has an outstanding reputation and is well respected across the industry, she will bring commitment and enthusiasm to our staff and clients by striking the right balance between creativity and efficiency to deliver the best results for our busy studio. Rebecca has outstanding creative and technical experience with incredible credits and visual achievements to her name. Together they will provide further expertise and support to our clients and crew."
Capper added: "I'm delighted to be joining the Cinesite team, I have always admired what they have built and achieved together over the years and especially how everyone has faced the recent industry wide challenges. I'm extremely excited to be leading the team as we start together what feels like a new chapter as we emerge from the pandemic and define our new normal. There is a special ethos that extends across the Cinesite group, and we will continue to push our collective capabilities whilst taking great care of the work, our clients and each other as we grow over the years ahead."
Manning said: "I'm looking forward to being part of the incredible London team as well as the rest of the Cinesite group, working with amazing artists and contributing to the company's exciting projects and impressive history of outstanding visual effects."
Cinesite teams are currently in production on The Witcher S2 (Netflix) Wheel of Time (Amazon Studios) and Matilda (Netflix).