The extensive one-day free-to-attend conference takes place on 30 November, before the Broadcast Tech Innovation Awards 2021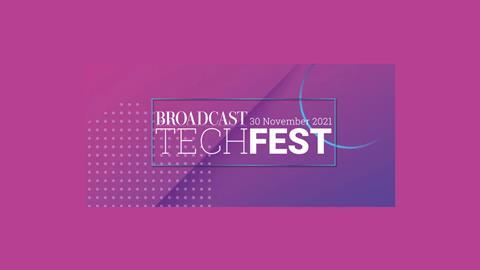 TechFest 2021 is a comprehensive one-day event for the production and post industry, taking place at The Brewery in London on 30 November.
It's free-to-attend and features three streams of content in adjacent rooms within the venue.
As well as the conference programme, TechFest features an exhibition and networking space in the Queen Charlotte Room, next to the conference rooms.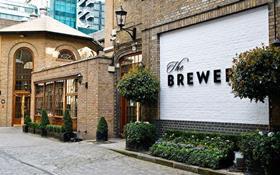 TechFest provides a platform to explore the changing dynamics of broadcast technologies by covering more topics and bringing together more people than ever before.
The event brings together a generous line-up of speakers, with the programme covering a wide range of topics across production and post-production, including:
Acquisition, post, cloud, storage
The future of Soho and remote working/production
Case studies from the makers of the best content on our screens
Technical case studies covering everything from VFX to grading
Broadcast Tech Innovation Awards 2021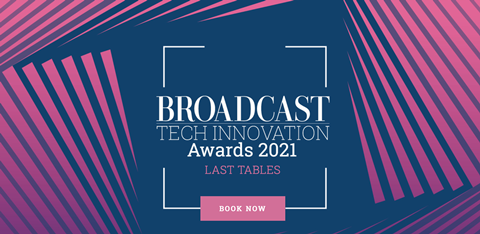 Tech Fest happens in the same venue as the Broadcast Tech Innovation Awards 2021.The Broadcast Tech Innovation Awards celebrate the exceptional teams behind the most outstanding broadcast productions of the past year.
TechFest 2021 – The programme
The TechFest programme is split into four distinct areas – Tech Innovation, Demo, TechHub and Creative Tech.
09:00 Registration (60 mins)
10:00 In Conversation with… Adele Fletcher, AMPS (30 mins)
Fletcher is a highly respected and BAFTA-winning sound editor specialising in dialogue and ADR.
Chair: Andrew Wilson CAS AMPS, freelance re-recording mixer
Speaker: Adele Fletcher AMPS, dialogue and ADR editor
10:30 UK Production Landscape (40 mins)
How three leaders in production have dealt with the challenges of the last year and what positives they have taken away to apply in the future.
Chair: Dean Webster, senior producer - Ten66 Television
Speakers: James Burstall, CEO – Argonon / Bianca Gavin, Head of Production for Scripted - Pulse Films / Cara Sheppard, managing director - Twickenham Studios
11:00 Does XR Mean the Death of Post-Production? (30 mins)
The adoption in virtual production and eXtended Reality (XR) mean increasingly, effects are being captured 'live' as opposed to being applied in post-production. Where does that leave post facilities as more and more productions employ VP?
Chair: David Dowling, chief revenue officer - Pixotope
Speakers: Kevin Cooney, creative director - The Level UK; Lou Doye, executive producer - QXR Studios/ loudoye; Simon Kanjee, managing director – Evolutions; David Levy, director business development, Global Solutions – Arri
11:20 Vigil - Creative Case Study (50 mins)
We talk to the creative teams behind the hit drama about how it was made, from the impressive production through to the post, audio and VFX.
Chair: Cara Kotschy, Post Production Consultant
Speakers: Colin Brown, colourist - Blazing Griffin Post Production / Matt Gray, cinematographer / Kahl Hendersen, managing director – Savalas / Jim Parsons, VFX supervisor - Goodbye Kansas / James Strong, director & executive producer
11:45 Cloud Engagement: How Content Producers are Using Cloud-Based Solutions to Enhance Audience Engagement (30 mins)
This panel highlights how broadcasters and digital content producers are connecting with their audience using the latest innovations in technology.
Chair: Alex Humphries-French, Head of Marketing & Communications - never.no
Speakers: Ed Abis, managing director - never.no / Phil Goodall, senior manager, Broadcast Operation – QVC / Cassandra Kyeyune, assistant producer – ITV / Stephen Neal, live director 'The One Show' - BBC Studios
11:45 Audio State of the Nation (AMPS) (35 mins)
Chair: Andrew Wilson CAS AMPS, freelance re-recording mixer
12:20 How Can Producers Utilise Virtual Production for Innovative Storytelling? (30 mins)
Final Pixel reveals the technology secrets of virtual production and how to use it for innovative storytelling.
Speakers: Monica Hinden, executive producer / Christopher McKenna, director and partner - Final Pixel / Michael McKenna, CEO & co-founder - Final Pixel
12:25 Remastered and Re-Loved (35 mins)
This session offers a breakdown of the core values and approach to film restoration from the team at ITV Content Delivery, and the impact the work has had on BritBox's audience.
Chair: Bethan Wilkin, head - ITV content delivery
Speakers: James Macmillan, business development manager - ITV Content Delivery / Craig Morris, head of editorial - Britbox UK
12:30 Working on feature films with DaVinci Resolve's Collaborative Mode (30 mins)
Daria Fissoun examines the benefits of DaVinci Resolve's Collaborative Mode, from principal photography through to finishing.
Speakers: Daria Fissoun, colourist and trainer
13:00 Heads of Post-production panel (40 mins)
Bringing together some of the leaders in the post-production industry to discuss the current challenges in post-production.
Chair: Jake Bickerton, editor - Broadcast Tech & Sport Group
Speakers: JP Dash, commercial managing director - Fifty Fifty Post Production / Rowan Bray, managing director - Clear Cut Pictures / Ed Bengoa, director of post production - ITN
13:15 IP Connectivity (30 mins)
The panel discusses the benefits of moving from SDI to IP connectivity for facility builds, explaining how IP works to reduce cabling, add a great deal of flexibility in operations, enable high-resolution workflows and future-proof expansions and new building installations.
Chair: Alison Pavitt, marketing director - Pebble
Speakers: Ian Wagdin, senior transfer technology manager - BBC
13:15 Recruitment Crisis – What Action Can We Take Now? (40 mins)
As the staffing, crewing and recruitment crisis deepens across the broadcast industry, we discuss how this has been affecting the sector, what immediate steps can be taken and how we can future proof careers and job opportunities.
Chair: Beverly Nzama, broadcast presenter
Speakers: Simon Davis, project specialist – disguise / Katie Leveson, culture & transformation director - BBC Studioworks / Martin Richards, head of broadcast technologies – Sky / Carrie Wootten, managing director - Rise
13:50 Recruiting Diversity (30 mins)
Diversity, equality, and inclusion continues to gain steam in the Broadcast and Media Industry as organisations are realising the vast benefits. Many organisations are now putting the D&I roles into their management teams and supporting organisations such as RISE and MAMA Youth Project.
Chair: Kayte Burns, marketing manager - Mama Youth Project
Speakers: Joanna Barcik, sound – Sky / David Carrigan, group director of diversity, inclusion and wellbeing – Sky / Bob Clarke, founder & CEO - Mama Youth Project
14:15 SMPTE - ATC21 Review (30 mins)
The SMPTE Annual Technical Conference is a longstanding landmark event for the global media & entertainment markets. If you missed any of the sessions, the SMPTE UK team are here to give you the highlights of the conference.
Speakers: John Ellerton, head of futures & UK SMPTE chair - BT Media & Broadcast
14:30 VFX: Showcasing UK Excellence (40 mins)
This State of the Nation discussion reviews the impact of the last 18 months, remote working and how businesses have had to adapt, and also how the UK has become an exceptional creative hub with Google, Apple, Netflix, and Amazon.
Chair: Max Miller, reporter - Broadcast Tech & Sport Group
Speakers: Phil Dobree, CEO/founder - Jellyfish Pictures / Annie Gordon, head of VFX - Ghost VFX / Tracey McCreary, managing director - BlueBolt
14:40 AI in Broadcast: Creation, Innovation, Adoption (25 mins)
Jamie Allan, head of media, entertainment and broadcast for EMEA at NVIDIA talks through the state of AI in the broadcast industry today and what should be considered when looking at bringing AI into a media organisation at scale.
Speakers: Jamie Allan, Media, Entertainment & Broadcast Industry Lead - NVIDIA
15:10 Sustainability in Production - What Should We All Be Doing (20 mins)
Andy Beale talks to us about how BT Sport aims to become a more sustainable broadcaster, contributing towards BT Group's target of curbing its carbon emissions to net zero by 2030.
Speakers: Andy Beale, chief engineer - BT Sport
15:35 Technology: State of the Nation (35 mins)
This panel discusses the impact of the last year on technological advancements and how technology has changed and accelerated due to the pandemic.
Chair: Cara Kotschy, Post Production Consultant
Speakers: Mun Wai Kong, CTO – Grabyo / Taig McNab, group head of technology - All3Media / Tom Witkowski, director of technology & engineering - Twickenham Studios
Also, at various slots throughout the day there will be the following demo.
Demo: Kairos (30 mins)
Kairos is a next generation live production platform that enables unprecedented productivity for studios and live events. Based on open software, Kairos can work with a simultaneous combination of video inputs such as ST 2110, NDI, SRT or baseband SDI. It can output to standard resolutions such as HD and UHD alongside non-traditional formats such as 32:9 for an LED backdrop when working within virtual studios – all with a latency of just a single frame. Kairos Creator is the platform's intuitive and extremely well-designed Graphic User Interface that enables the management of an unlimited number of video layers.