Planning permission for a huge hotel in the centre of Wardour Street will wipe out the Soho offices of an assortment of post houses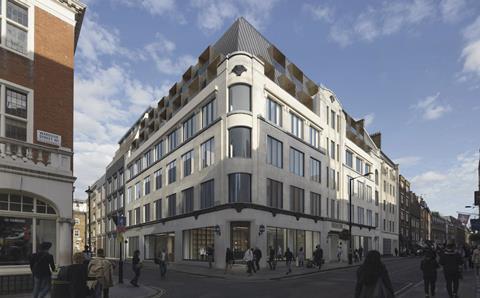 The proposal to create an upmarket 176-bedroom, seven-storey hotel on the Wardour Street sites of Deluxe's UK post-production house Encore, sound studio Angell Sound and VFX/grading house Freefolk, has been given the go-ahead.
Design and architect studio MoreySmith has been cleared to create the Soho hotel development, which will retain the facades of the Film House and Mentorn House buildings on Wardour Street while demolishing the rest of the buildings as well as demolishing 20 St Anne's Court and to the rear of 138-140 Wardour Street.
The committee meeting to discuss the original planning application took place on 27 March, and while the planning application entry on the City of Westminster website still has the project planning status listed as 'pending', architect trade journal Building Design (BD) has reported that the planning permission has now been given.
It says Westminster planners said they "considered swapping the building's current office use for hotel space was acceptable, and that the hotel scheme would not have an adverse impact on neighbouring residents."
However, not only would the Soho offices of numerous post-production and visual effects companies be lost, the development will severly impact on the noise levels in the area, which houses many other post-production houses.
Many negative comments and objections were left about the development in the planning application page on the City of Westminster website, including about it destroying the fabric of the creative community in the area and about excessive noise, accessibility and general inconvenience during the extensive development period it would take to create the hotel.
However, the committee appeared to focus on the aesthetics of the proposed development and how it would largely preserve the look of Wardour Street. According to BD, the committee approved the proposals during the 27 March meeting.
The likelihood of the proposed hotel development coming to fruition has taken a major step closer.