'World class' hub will be sited in the old Polestar Petty printworks on Whitehall Road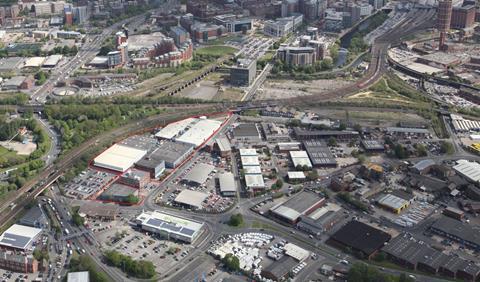 A major TV and film studio complex is to be created in Leeds, just 5 minutes from the new Channel 4 headquarters.
The six-studio development is being created on the former Polsestar Petty printworks – a currently derelict site (pictured above) – in response to increasing demand for TV facilities in Leeds, following Channel 4 and Sky's recent announcements of relocations to the city.
Its location is between the existing TV and film hub on Kirkstall Road and the South Bank, which is home to around 500 creative and digital businesses.
Leeds City Council is working with a series of partners to create the TV and film studio complex, which it says will more than double the amount of usable TV and film space in the city.
The plans for the studio complex are going to the council's executive board for approval on Tuesday 23 July.
If approved, the council will lease the property from Caddick Group and then sub-let it to Versa Studios – the owner of All Studios, which operates the newly announced Manchester Studios. Versa Studios will then work with Leeds studio operator Prime Studios to operate and manage the studio complex.
Councillor Judith Blake, leader of Leeds City Council said: "This investment is a game-changing moment for the film and TV sector in Leeds. The sector has expanded significantly in recent years, so there is a real demand for more studio space to allow the industry to grow. The council is supporting this by bringing forward a number of new facilities such as the Engine House and the new studio. Not only will the new space be of huge benefit to the sector, but it will also create a number of new jobs and bring further investment to the city."
Johnny Caddick, director at Caddick Group, added: "Caddick Group is thrilled to be working closely with Leeds City Council to transform what was a derelict site into a new media hub that will help support Channel 4's relocation to the city."
Ben Hepworth, managing director at Prime Studios, said: "This is a ground-breaking development that will transform the film and TV production landscape in Leeds. It means that, for the first time, Leeds will have a world class studio offer that will firmly establish the city as a leading centre for international production. The film and TV industries in Yorkshire have been invigorated in recent years, with Channel 4's decision to locate their national HQ in Leeds further cementing our position as one of the most exciting and fastest growing out of London production hubs."