First two refurbished sound stages at former Granada site to be ready for bookings in July
The former Granada Studios in central Manchester is to reopen next month under the new name Manchester Studios.
The studios, which were home to iconic TV shows such as Coronation Street, Stars In Their Eyes and University Challenge, closed in 2013. Since then, they have lain empty and occasionally been used as 'four-waller' spaces for drama and feature film shoots.
The TV studios have now all been upgraded to full HD capability and there will be six in total, which will be opened in phases. The first two – the 10,000 sq ft Stage 1 and 2,000 sq ft Breeze Studio – will open in July. The other four, which will range from 3,200 to 8,000 sq ft, will open early next year. All the TV studios will have full lighting grids, galleries and resin floors.
The company has also just opened Bonded Underground, which it describes as a new type of filming space that specifically caters for smaller, independent productions, "but with the connectivity and amenity of a full-service TV studio".
The Bonded Underground space has six multifunctional studios – from 700 sq ft to 2,200 sq ft – suitable for TV work, photography and podcasting. The studios have infinity walls, chroma-key capability and dark-fibre connectivity, with the production spaces and studios within the broader redevelopment scheme of Enterprise City.
"This is a really exciting time for us, bringing so many existing, high-quality TV studios back into full use"
Melanie Jones, Manchester Studios
Enterprise City covers 500,000 sq ft of central Manchester and includes production and co-working space, a 200-bedroom hotel and a refurbished 1960s brutalist block, which will be reopened as the ABC Buildings, providing space for film, TV, media and tech companies.
As well as the redevelopment and expansion of studios in central Manchester, the company behind Manchester Studios – All Studios, which has been set up by Michael Ingall, founder of property developer Allied London – has also invested in two new sound stages in Birchwood Park, just outside the city.
Also opening later this month, they will provide 8,500 sq ft and 5,500 sq ft of acoustically treated stage with "ample crew parking", wardrobe/props, production offices and workshops, in a parkland environment.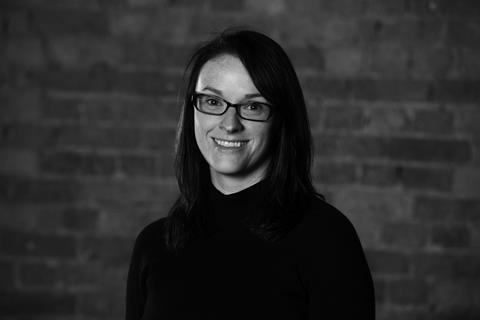 Manchester Studios managing director Melanie Jones, said: "This is a really exciting time for the Manchester Studios team, bringing so many existing, high-quality TV studios back into full use.
"Bonded Underground is great because it is providing six new studios that cater to a wider range of producers and creative processes and is highly flexible and economic to use.
"Expansion to Birchwood Park to continue delivering sound stage options for our existing drama and feature clients was something we were keen to do, so that returning the TV studios to their original use didn't negatively impact the facilities available in the region for production."
All Studios chief executive Ingall added: "The demand for studios in Manchester has complemented the wider vision for Enterprise City, creating a media, tech and creative cluster for modern industry in the heart of the city.
"With infrastructure investment and lettings to companies such as The Farm Group, Studio Lambert, Gobstopper and Endemol, we're in a good position to create a new city centre media hub."