Netflix's Judge Dredd series Mega-City One will be first project in the new space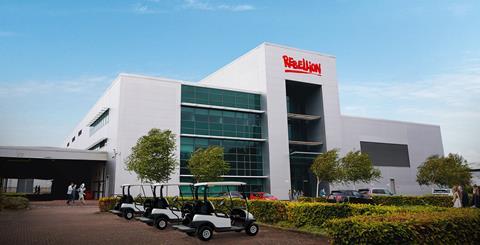 A significant film and TV studio development is in the works in Oxford and could open in the first quarter of 2019.
The project is being steered by video game and comic book publishing company Rebellion, the outfit which owns the 2000 AD comic book IP including the Judge Dredd franchise, which has purchased a 220,000 sq ft facility to convert into a production studio.
The site in Didcot, 20 minutes' drive from Oxford, was formerly the Hamsworth Print Works, a printing press used by the Daily Mail until two years ago.
Rebellion says that the site, which it claims amounts to a value of US$100m when the land, pre-existing building and improvement works are taken into consideration, is virtually ready-made for film production. It already features a significantly large sound-proofed space that will take minimal work to upgrade.
The largest existing spot will be converted into a 25,000 sq ft sound stage, which will be able to accommodate shoots from TV drama to large-scale Hollywood productions. The site will also feature full production and post-production office space.
The first productions into the new space will be Rebellion's own Judge Dredd TV sci-fi drama Mega-City One and the future-war feature film Rogue Trooper, set to be directed by Duncan Jones (Moon).
Rebellion already own a three-stage studio space in Oxford, which is home to Europe's largest performance capture stage and Rebellion's subsidiary motion-capture company Audiomotion. The latter outfit has been involved in UK-shot tentpole movies including World War Z and Harry Potter and the Deathly Hallows.
Rebellion founders Jason and Chris Kingsley were also producers on the 2012 feature film Dredd and set up Rebellion Productions in 2017 to develop and produce film and TV based on the company's IP.
According to Rebellion, the site only needs remedial works to become fit for purpose, as the building already features heating, lighting, high-speed internet and soundproofing. This work is scheduled to be completed by the first quarter of 2019.
The company claims the facility will create up to 500 new jobs in the UK in the coming years and Rebellion is holding talks with US film studios in December to introduce them to the project.
The UK is experiencing a boom in film and TV production. Inward investment in just the film space reached £1.7bn in 2016, while the UK's film, high-end TV, video games, animation and children's TV sector generated a combined economic contribution to the UK economy of £7.9 billion.
This article first appeared in Broadcast's sister title Screen Daily