The TV studio facility is on the old Granada Studios site in central Manchester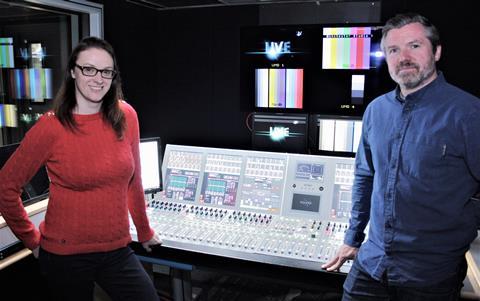 Manchester Studios has launched Studio 1, its first dedicated broadcast TV studio.
The 13,000 sq ft Studio 1 is in a self-contained building with integrated galleries, new studio infrastructure and "a range of new spaces" to support audience shows.
There are also production offices, high-end star dressing room suites, audience holding areas, VIP, exec and green rooms.
A new fibre and copper infrastructure has been installed as well as a full dimming system installed throughout.
The 4K studio galleries have been remodelled with kit from Sony, Calrec, Grass Valley, Riedel and EVS.
Manchester Studios is on the site of the old Granada Studios, and plans to operate 13 studio spaces at the location by late 2021.
Studio 1 Kit list
Grass Valley 3ME Kula Vision mixer
EVS Server system
Sony Camera System
Grass Valley Video Router system
Calrec Artemis 48 Fader Audio Mixer with Hydra 2 I/O
Riedel Talkback System including Bolero
OLed Gallery monitors with configurable muliti-viewer system
Head of studios Anthony Gannon (pictured above right), said: "This is a really exciting time for Manchester Studios as we move on from the plug-and-play gallery arrangements we worked with in 2019 to having a fully integrated system in Studio 1. The quality and flexibility of the new infrastructure means we will be able to turnaround shows faster and deliver better for our clients who are already booking in from July to return to production.
"The launch of Studio 1 is a great first step in bringing so many existing, high-quality TV studios back into full use and we can't wait to move ahead now with the next phase of the project to bring back the other five studios of the main M1 studio block," adds Gannon.
Managing director Melanie Jones (pictured above left), adds: "Continuing works during the Covid-19 lockdown has presented some new challenges for us, however, we have managed to continue and complete the works with minimal delay. We are already working closely with clients to re-introduce their teams into the space and look forward to seeing the first shows in there this summer."
The gallery infrastructure was designed and installed by 4KXL, while fac365 designed and delivered the sound installation.
Raz Khan, managing director, 4KXL, says: "Having carried out the original Granada Studios upgrade from analogue to digital video in the early 1990s, it has been a privilege to partner with Manchester Studios and continue our association with the Quay Street site."
Mike Hayes, director, fac365, says: "Being part of this project was a great opportunity for us to engage with the new team running this historic site of television production. The sound gallery we have designed is focused on being flexible and future-proofed to deliver for all forms of production."