The truck is capable of capturing and creating 'digital human' avatars from any location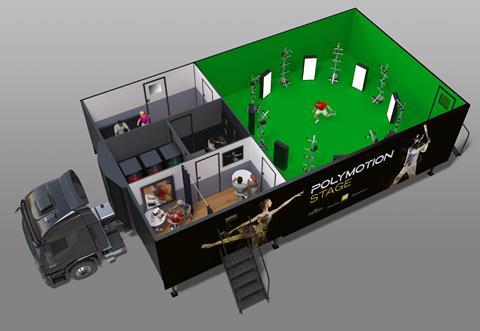 A 3-in-1 mobile volumetric studio on wheels - the Polymotion Stage Truck – has just been unveiled by volumetric production studios specialist Dimension and Mark Roberts Motion Control (MRMC).
The truck makes it possible to create full 'digital human' replicas of people at any location. The 3-in-1 Polymotion Stage Truck shoots volumetric video; takes 3D stills; and enables full avatar creation from anywhere in the world.
A mobile volumetric capture solution from the same companies was used last year by Sky Sports at the 148th Open to create digital replicas of the world's top golfers including Rory McIlroy, John Rahm and Dustin Johnson. These were used for a highly innovative broadcast during which the presenter analysed the swings of the photo-real replicas of each player.
The Polymotion Stage Truck opens out to accommodate a full-size capture studio within the truck. Hydraulic systems expand the trailer, effectively tripling its footprint to present a green screen capture room of 46m2 in size. Automatic self-levelling hydraulics provide the stability.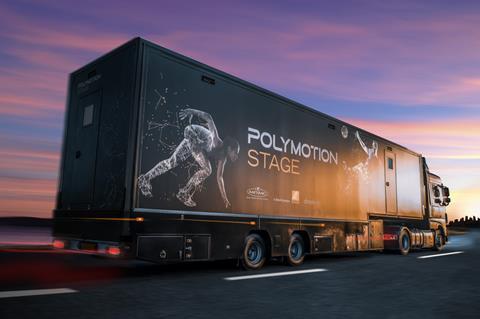 It's possible to set up the full studio relatively quickly, making it possible to do same-day shooting at any location at any time.
The truck includes the studio space along with two climate-controlled multi-purpose rooms for hair, makeup and wardrobe facilities, green rooms or additional photo studios.
The vehicle also features a pre-processing data centre for quick footage review, enabling creative decisions to be made on the spot.
The Polymotion Stage Truck is operating under 'safe-shoot' conditions in accordance with Government and APA guidelines.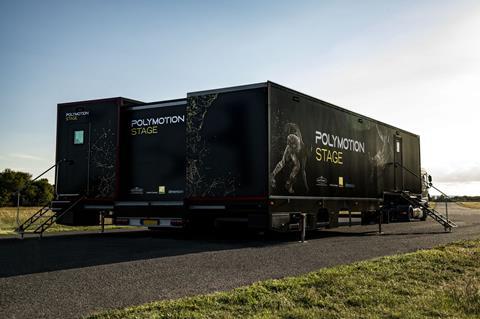 Simon Windsor, co-founder and joint managing director of Dimension, said: "We're thrilled to partner with MRMC to launch the Polymotion Stage. These revolutionary mobile capture studios will enable new forms of virtual entertainment and content across sport, music, fashion and more. From the Madonna holograms we created for the Billboard Music Awards to Sky's Britannia VR and the War of the Worlds immersive experience, volumetric and real-time technologies are raising the bar for entertainment with new possibilities emerging every day."
Sara Gamble, head of volumetric solutions, added: "We are extremely excited to be launching our Polymotion Stage Truck. We can now go to any location and capture talent, supporting the industry with delivering creative content on site."