The busy seminar programme offered visitors to the show a range of free-to-attend tech-focused panel discussions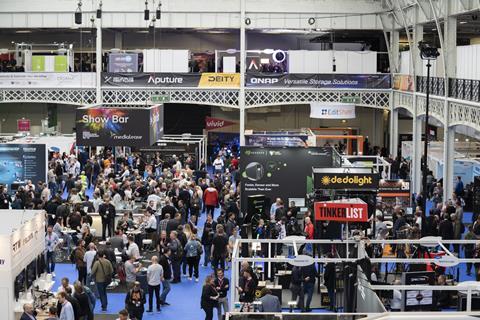 The future of tech, AI, the cloud and connectivity were among the many subjects discussed in the Technology Theatre on the first day of the Media Production Show.
The day was kicked off by Sinead Greenaway, the BBC's director of broadcaster and end user technology, who, in conversation with Rise managing director Carrie Wootten, discussed the transformation projects she has undertaken during her extensive career. She also spoke of technology changes to come in the future, her role at the BBC and how the industry needs to encourage more women to work in the broadcast technology sector.
Next up was a presentation on the 'Economics and Efficiencies of Hyperconvergence' by Ross Video's business development manager for production switchers and video servers Raphael Samad and ES Broadcast's group chief technical officer Jonathan Lyth.
They outlined how the concept of hyperconverged platforms can modernise workflows in production environments. The benefits of these platforms include increased efficiencies in operations, maintenance, and operating costs. The pair also discussed the important aspects to consider when implementing a hyperconverged platform in a facility.
Shortly after, Matthew Brooks, lead R&D engineer at BBC R&D, gave a presentation titled Flexible Media, which looked at how the BBC is giving its audience more control of what they watch and listen to across devices, allowing commissioners to deliver experiences that adapt to each audience member.
Flexible Media is a flavour of Object Based Media which combines new commissioning, editorial, and technical approaches to media production. Brooks said Flexible Media technology could transform production, enabling production teams to do more for less, as well as transform the audience experience by wrapping content around their lives.
Brooks explained that the benefits of broadcasters segmenting content include discovery of moments in search, advanced navigation while watching, dynamic inserts, personalised catch-up packages, daily digests, and allowing audiences to share individual moments.
'Cloud Economics - what's the rush and what's the cost?' was the title of the next session in the Technology Theatre. Tyrell cloud platform owner Nick Soper, Clear Cut Pictures technical director Jess Nottage, Greenfish.io managing director Tracie Mitchell, and Object Matrix co-founder and CRO Nick Pearce all sought to address the challenges around cloud adoption.
Fired by the pandemic the journey to cloud is definitely on, but the panel said that correct decision making can get lost in the rush. While more producers are migrating their workflows to cloud, many prefer to keep their data closer to home. Some companies are hesitant because they question whether the cloud fits their business cycle. Cloud economics also remain a serious impediment and can come as a shock. What's more Cloud is not a zero-sum game with many types of virtualized and hybrid environment to consider.
Not every company is on the same journey or moving at the same pace, so it pays to investigate which cloud works best for your business, they said.
Artificial intelligence is set to revolutionise production, predicted Dr Alex Connock in his session The Future of Tech.
AI tools are being used in distribution, but not yet in development and production in the UK - but that will change in the next year, said Connock, a media business academic who lectures at Oxford and Exeter Universities, and at the NFTS.
"Don't be scared of AI – it is definitely coming, There are so many ways to use AI tools in your creativity which will give you whole load of opportunity in format creation," said Connock.
He pointed to research which shows that people now find synthetic humans indistinguishable from real humans and more trustworthy.
He showed how tech such as Nvidia's GauGAN2 AI art tool can create artworks with a few words and how Flawless's TruSync uses AI to digitally edit an actor's face so that they appear to be speaking a different language, making lip-sync look much more realistic. Meta AI, meanwhile, uses AI to automatically animates children's drawings.
Connock also cited storytelling AI applications such as Charisma through to Cinelytic, which uses AI to help Hollywood studios and production companies make greenlight decisions.
Next, Purminder Gandhu, technology transfer & partnerships manager at BBC R&D, gave a presentation titled 'The Future of Connectivity'
She looked at how connectivity is evolving, from 5G to low-earth orbit (LEO) satellites
and how this has had an impact on news contribution, including some stories coming out of Ukraine. She also addressed 5G NPN (Non-Public Networks), the differences between types of deployments and future ideas such as network slicing and traffic prioritisation.
Renowned director and DOP Brett Danton was next up, interviewed by Nvidia's EMEA media, entertainment & broadcast lead Jamie Allen in a session titled the 3D DOP.
He explained how the converging physical and digital methods of planning and executing cinematography is allowing him and his clients more creative control over the entire process.
As the quality of real-time rendering for visualisation increases, he explained how he can now accurately light and plan entire shoots in a virtual space and then integrate both physical shooting with virtual production and full CG shots with confidence.
Sessions in the Technology Theatre wrapped with a presentation titled 'LucidLink Filespaces. The power of the cloud and the simplicity of a disk' by Alex Ferris, media workflow & cloud technologist at LucidLink, and Dominic Bull, pre-sales engineer at LucidLink.
They explained how to ingest, edit and collaborate cost effectively with anyone, anywhere.