Sessions covered the state of the industry, the Paralympics, 5G, remote production, SMPTE, digital preservation, remote post, and more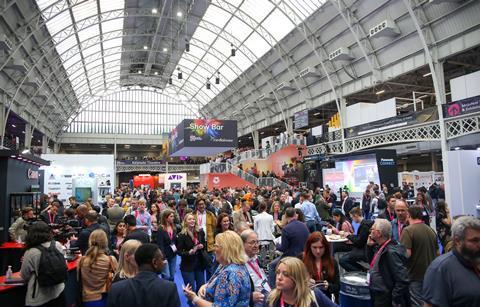 Day two of the Media Production & Technology Show saw a host of Technology sessions come to the fore, covering topics from across the whole broadcast industry.
The day began with a state of the nation hosted by TV and radio presenter LJ Rich, who was speaking to BBC News head of UK operations Morwen Williams, Zinc Media Group CTO Olly Strous, and Sky group director of content, broadcast & platforms, Dave Travis. The trio highlighted the use of what had been consumer technology for broadcasts during the height of the pandemic, and discussed the rise of cloud production - pointing to the next challenge being the integration of audio.
This was followed by Channel 4 online engineering manager Dom Foulkes and M2A Media chief delivery officer Leon Box revealing the cloud based innovations that ensured the broadcaster was able to meet expectations with its Paralympics coverage at Tokyo 2020.
Next up was BBC R&D senior transfer manager Ian Wagdin talking about a 5G project that looked at use cases in audio, studio and 3D capture. Simon Reed, managing director of Evertz, then looked at the options for remote production using the cloud, and the challenges as well as new opportunities that come from distributing production away from a central base.
SMPTE, the global society of media professionals, technologists and engineers working together to drive the industry forward, then came on stage to reveal their recent work and what is coming up for the organisation. SMPTE UK chair John Ellerton, who is also head of futures at BT Media & Broadcast, Sky senior PQ engineer Carys Hughes, Deluxe SVP of innovation Richard Welsh, and Solent University media student George Coleman discussed the drive towards technical improvements and making sure there is talent to use the technology.
Iron Mountain Entertainment Services VP of technology Denis Leconte gave attendees tips for using digital storage for long-term preservation of content, making sure they are aware of the potential pitfalls of usng software that wasn't originally intended for this purpose.
The mammoth job of relocating Morning Live from London to Manchester was then on the agenda, with Gravity Media head of broadcast and post production rental Jamie Brewer speaking to Gravity's director of media services & facilities Meryl McLaren and head of systems integration Paul Sykes, BBC Studios production engineering manager Dave Rutter, and VERSA Studios executive director Charlie Ingall about how they relocated the show in just two months, creating a brand new studio to do so.
Finally, the show was closed out by industry consultant Lisa Collins questioning Raccoon founder and CEO David Klafkowski, The Finish Line founder and CVO Zeb Chadfield, BeloFX CTO Graham Jack, and Final Pixel CEO and co-founder Michael McKenna about whether post-production houses still need to be based in Soho. With many differing opinions, it is sure to be a debate that continues on well past MPTS.