Broadcaster wants music composers to forego their royalties as part of new music buyout deals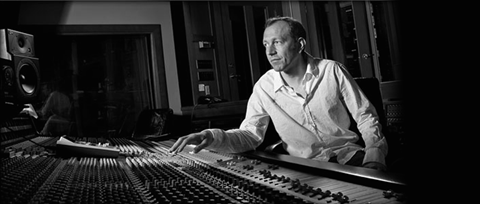 TV and film music composers are attempting to fight back against a decision by Discovery Networks to force music makers to give up their entitlement to performance royalties for music used across Discovery Networks' channels.
Beginning at the start of this year, Discovery has said it wants to do 'direct licences' or 'buyouts' with composers, where the broadcaster pays a fee for the work but the composer receives nothing else. This would apply to all US airings of their shows.
Composers typically receive an upfront fee along with a share of the royalties (commonly around 50% with the other 50% going to the broadcaster) every time the show is broadcast. If a show is successful, and particularly if it's a global hit, this can amount to a substantial figure in royalties.
Discovery Networks, whose channels include Discovery, Animal Planet, HGTV and Food Network, says that, from now on, composers will no longer receive their share of these royalties.
"The actions of Discovery are unacceptable, and no composer should sign up to these demands."
This covers both new programmes and those in the Discovery archives, with composers having to sign away their right to receive royalties from past shows. It's been reported that composers refusing to do so may have their music taken off existing shows and replaced with library music. In addition to Discovery, Netflix has also been making moves to get composers to accept buyouts where no future royalties are paid, although it says these deals aren't mandatory for music composers.
UPDATE: Following the publication of this article, Discovery contacted Broadcast to say it had spoken to the Production Music Association (PMA) in the US to say it is "committed to providing compensation to music providers for music in Discovery programming", and it is continuing to operate under the PRO model [US licensor of music] for all "current and past programming, and music providers will continue receiving royalties through the PROs for such programming." Discovery also told the PMA that it will "evaluate new programmes on a case-by-case basis based on the creative needs of the programmes."
The Performing Rights Society (PRS) collects royalties for its members through the collective licensing system. Members of the PRS assign their performing rights to the organisation, and therefore can't negotiate performing rights payments with a broadcaster. This contrasts with US collecting societies which don't work in the same way and allow writers to negotiate their own licensing arrangements.
PRS director Crispin Hunt told Broadcast: "We know that we have protection up to a point, as UK writers have assigned their performing rights to PRS, but there is a risk they may simply stop using PRS writers, and remove PRS writers' music from archive content."
Alongside his role at PRS, Hunt is chair of The Ivors Academy of Music Creators, which represents composers and songwriters. Its CEO, Graham Davies, is spearheading a campaign called #nomusicbuyouts. He says the move by Discovery and Netflix "sets a dangerous precedent. The actions of Discovery are unacceptable, and no composer should sign up to these demands."
"We shouldn't just throw away something with the bathwater that's a 200 year old right."
Speaking to Broadcast, Davies said: "It's creating such a strong reaction and fear because the back-end royalties have been the things that have sustained the creator. And while the whole Discovery thing is a challenge in the UK as the PRS has the exclusive rights, they will probably still find people prepared to do the work. The broadcaster and the commissioners rely on that and know that."
Music composer Dru Masters (pictured above), whose credits include The Apprentice, Taskmaster and Damilola, Our Loved Boy, told Broadcast: "10-20 years ago you only had a handful of media composers. Now there's an awful lot of people with a laptop and a couple of bits of software and because they are new to it they'll accept things for next to nothing. However, attracting big name composers is going to be a different thing altogether."
"Discovery are also threatening to strip out music on shows already made if we don't allow them to use it for free. But, I mean, really, it's going to cost them tens of thousands to go to an edit suite, strip out the music in an offline, replace it with some other music, go into the dub, re-dub it and then re-online it. I think they are calling everyone's bluff, and they are hoping to pull back to somewhere in between."
"If you're just putting generic library music on the back of War and Peace, it's not going to work."
Masters gave some examples of how TV music composers writing bespoke music get paid, to set Discovery and Netflix's move in context. He said: "For factual TV, which is the bulk of TV, especially for Discovery, fees are generally fairly low – around £1,000 an hour of TV. So, for a series, you might receive £4-5,000 for the job. Then you get the royalties, and that all adds up, especially if you've got international sales and repeats when it can be reasonably lucrative. But it's not super, super huge money."
"Usually, we get a 50/50 split of the royalties with the broadcaster, and they consider that a business model. They will say that's how we invest in having new music in a programme. If they use library music, it costs them nothing to use, but they make nothing. If they use commercial music, they've got to pay for it. Whereas, if they commission it, they share the money from the royalties. One of the first big things I did was The Apprentice, 15 years ago. I wrote new music for the show for the next decade, and they are still using my music and I'm still making royalties from it. Every penny I make from it, they make the same, so they have done pretty nicely out of it, but then, so have I."
"Within five years this won't be a job for a professional composer."
The possibility of bypassing the PRS route and finding composers willing to do the work for just an upfront fee or choosing to use library music instead, runs the risk of reducing quality, for a relatively small cost saving.
Hunt says: "If you haven't got brilliant TV shows and brilliant writers and brilliant music, if you're just putting generic library music on the back of War and Peace, it's not going to work. All progress in the past was accompanied by proper scrutiny and accountability. We shouldn't just throw away something with the bathwater that's a 200 year old right – that one should be able to benefit from one's creativity."
Masters concludes by saying: "We will end up with everyone doing one or two jobs for a few hundred pounds and there will be no industry, and within five years this won't be a job for a professional composer."