It aims to become carbon negative with regenerative impact projects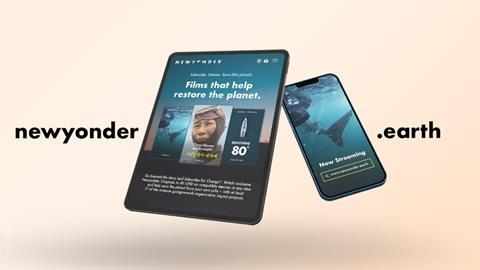 Newyonder has launched a carbon neutral streaming platform, with the aim to become carbon negative.
Its first two documentary films, Wild Isles and Three Moons Of Biyangdo, are now streaming on newyonder.earth, available through pay-per-view streaming and delivered by Red Bee Media's managed OTT services. As more content is added it plans to shift into an SVOD offering.
All its films are albert-certified carbon-neutral, sustainable productions with the ambition to have a positive social and environmental impact. This includes minimizing travel, compensating for any emissions, hiring local crew, and investing parts of the revenue in nature-based sustainability initiatives, such as seagrass creation and other regenerative impact projects.
In addition, Newyonder is a certified B Corp, and is currently carbon neutral. It aims to be carbon negative once its regenerative impact projects are implemented. The company is aiming to use recent research and will continue to develop and refine its methods to measure the carbon emissions from streaming to improve in this area.
Newyonder founder and CEO John Cleave said: "In essence, you go beyond the story and subscribe for change – to be immersed in the power of story whilst being a part of something bigger – to help restore the planet.
"I hope to be able to influence other media companies and filmmakers to follow in our footsteps, putting sustainability at the forefront without compromising creativity, quality, reach and profitability. I'm happy to have the support from Red Bee on this journey. Their commitment to sustainability in the media industry made the choice easy when we were looking for a streaming partner."
Red Bee chief commercial officer James Arnold added: "We take pride in supporting Newyonder in their quest to make the world more sustainable and inspire others in media and entertainment to do the same.
"Red Bee is already supporting sustainability initiatives in the media industry, and now we are looking forward to following Newyonder's progress, learning from it, and together taking further steps to preserve the planet."