Multi-million pound investment in Odeon's flagship store adds Dolby Vision and Dolby Atmos to the completely renovated venue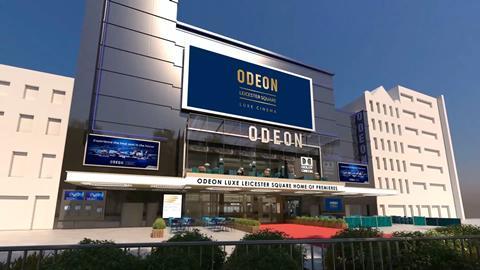 The Odeon cinema is set to reopen its flagship Odeon Luxe venue in Leicester Square following an 11-month, multi-million pound upgrade to refurbish the facilities and add Dolby Vision HDR projection and Dolby Atmos immersive audio.
It is pitching the main 800-seat cinema, which includes 350 recliner seats, at European film premieres. The venue also includes a further four screens with luxury seating, art deco design and a glass-fronted cocktail bar.
The Odeon says the Odeon Luxe is the "world's most sophisticated cinema for Hollywood stars." The Leicester Square cinema first opened in 1937 and has hosted more than 700 film premieres to date.
Mark Way, managing director Odeon Cinemas Group, said: "Our stunning Luxe refurbishment reinvents one of the most iconic cinemas in the world. With the combination of Luxe recliners and Dolby Cinema, no other cinema will offer this level of luxury and technology."
Dolby's SVP, Cinema Business Group, Doug Darrow, adds: "This installation represents the first opportunity for British film goers to experience the unparalleled magic that Dolby Cinema offers. This partnership with Odeon is a significant milestone for Dolby as we strive to extend spectacular experiences to moviegoers in the UK and around the world."
The Odeon Luxe Leicester Square cinema will reopen around Christmas.