Bournemouth VFX firm joins wave of UK facilities drawn to the city's burgeoning post sector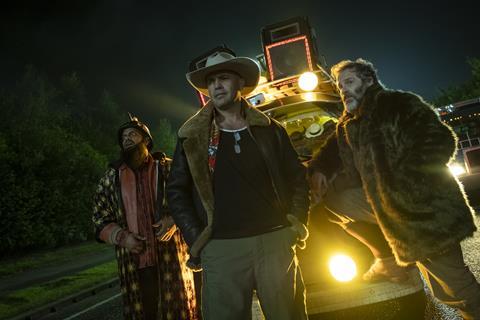 Outpost VFX has opened its first international studio in Montreal, becoming the latest in a wave of British facilities to set up shop in the Canadian city.
The Bournemouth-based VFX company said it has responded to client requests to open a facility in Quebec to leverage the province's generous film tax relief.
Outpost VFX said the new North American office will also enable it to service clients across multiple time zones and to talent share between the UK and Canada.
The company is operating from a 6,000 sq ft facility and is currently hiring for a number of positions across art and technology.
To date, Outpost VFX has 10 people working in its Montreal branch, and this is likely to increase to 30-40 in the next few months. The company anticipates further growth in the future.
Becca Scott has joined the busi- ness as head of production for North America and will head the new studio in Montreal alongside Gez Hixson, who has been pro- moted from UK head of production to global head of production.
Scott joins from MPC and was previously at Smoke & Mirrors.
James Rustad has also come on board as VFX supervisor. Rustad was most recently at Double Negative, and has had supervisory roles on Wonder Woman, X-Men: Apocalypse and The Revenant.
The new team is currently supporting Outpost VFX productions in the UK and is also working on a high-end TV series, which will be announced in the coming months.
"With the wealth of exciting talent in Montreal, we will be able to develop our ambitions even further, strengthening the great work already being done at Outpost in the UK," said Hixson.
Montreal has emerged as one of the world's largest post-production hubs in recent years. It offers some of the most generous tax rebates in North America – up to 43% for qualifying productions.
Montreal's talent pool has grown significantly because of its ability to lure in international productions, particularly Hollywood films and high-end TV, thanks to its tax breaks. Almost 40 visual effects and animation companies are based in the city.
Montreal also has a thriving computer games industry and is a home to companies such as Eidos and Ubisoft.
Outpost VFX follows a string of UK VFX houses that have launched in Montreal, including Cinesite, Framestore, MPC, Double Negative and The Mill – the latter two both opened their facilities last year.
Framestore recently doubled its footprint in the city and now has 82,000 sq ft of studio space in Montreal. With 600 staff, it has worked on projects such as Captain Marvel, Artemis Fowl and Dumbo.
Explaining the appeal of the city, Chloe Grysole, managing director of Framestore's Montreal studio, said: "Montreal is a tremendous melting pot of creative and tech talent, and over the past six years, the city has really come into its own as a VFX powerhouse."
Grysole added: "The success has been almost alchemical, and stems from a mix of great schools, a talented workforce, support from the government and the fact that it's the kind of exciting world city that people want to call home."
Leading VFX hub
The Mill already has 200 creatives working out of its new Montreal office on projects such as Maleficent 2, with plans to grow this number to 350 by 2020. Some 40% of its creatives are women.
Mill Film global managing director Lauren McCallum said: "Mill Film has capitalised on Montreal's position at the vanguard of Canadian technology and VFX development, to build a tier 1 VFX studio with the most diverse team of creatives and technologists."
Outpost VFX's new venture in Canada follows the expansion of its UK headquarters in Bournemouth over the past 12 months, from a team of 45 to a 10,000 sq ft facility with room for 150 employees.
The Canadian expansion comes after a year of planning and preparation by the facility. "With such an amazing talent pool in Montreal, it's a great fit," said Scott. "I'm looking forward to developing our Montreal team and continuing to build on Outpost's success."
Recent Outpost VFX projects include The ABC Murders for BBC1, Curfew for Sky 1 (pictured above) and feature film The Informer.
Recently, the facility has made a push on improving the work/life balance in VFX and introduced an uncapped holiday policy, as well as overtime for anti-social hours worked.