Third firmware upgrade for EVA1 camera, along with price reduction of more than £500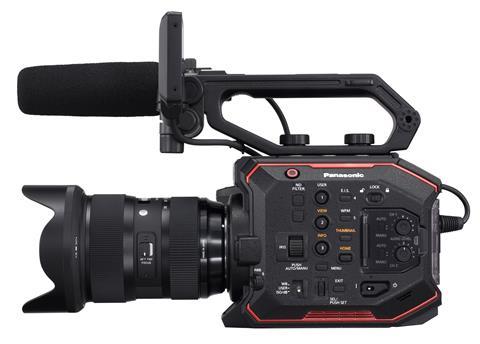 Panasonic has announced a third firmware upgrade to its EVA1 camera, and reduced its price by over £500.
A key feature of the free upgrade is a new HEVC H.265 codec that can record in 4K 50p/60p video with 4:2:0 10bit video sampling. Compared to the H.264 codec in version two, this allows up to twice the amount of compressed data, while maintaining the same resolution.
Meanwhile, Panasonic has reduced the price of the EVA1 by £507/€500, with a new RRP of £6,023/€6,790 (excl. VAT).
The upgrade also sees support for a third party's USB-LAN adapter, with Internet Protocol control. This enables EVA1-Live multicam control with the integration of CyanView Cy-RCP remote control panel.
Furthermore, new functions can be assigned to User Button for quick switching of shooting modes and framerates which simplifies system menu change.
Sivashankar Kuppusamy, marketing manager of broadcast & ProAV solutions said: "This free download enables less data to be transmitted, and even greater versatility in regards to capturing and editing content."
Other functionality added as part of the upgrade include still image capture in playback mode, enabling the EVA1 to capture still JPEG images and store them on to the SD card.
Additionally, the camera now allows two auto white balance presets, a focus indicator in the LCD head-up display, and SDR monitoring when shooting in HDR (HLG).