Sports demo at IBC 2018 showcases practical use of 8K in HD live production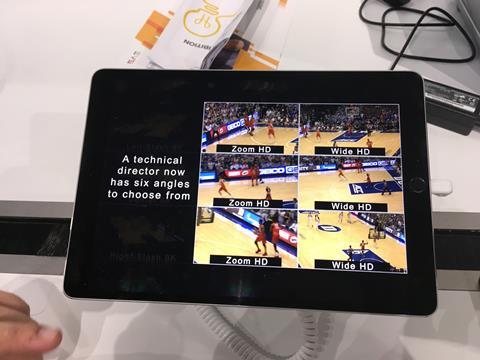 Panasonic demonstrated how live images from 8K 'region of interest' cameras could be used to create numerous distinct full-HD camera positions during a tech demo on its stand at IBC 2018.
It was shown using Panasonic's 8K region of interest box camera capturing an ultra high-res image of a basketball pitch from which a number of different HD images were derived.
"You get multiple HD images by cropping into the 8K image of the entire pitch. It's ideal for college sports, providing wide and zoom views," Panasonic field marketing specialist Oliver Newland told Broadcast.
The virtual HD camera images created by the system could be easily moved around and controlled in a similar way to a conventional camera using a controller system from Tecnopoint (pictured below).
The system automatically corrects any distorted images, so the full-HD images look natural as cut outs.
Using a streamlined camera setup reduces operational costs of covering a live sport or music event. Panasonic says the setup could "change the landscape of broadcast production, reducing operating costs on a multitude of potential production applications."
Sivashankar Kuppusamy, marketing manager EMEA at Panasonic, said: "By changing from multiple 4K or full-HD cameras to Panasonic's newly launched 8K region of interest camera, production companies are able to significantly reduce costs without impacting on the immersive experience they are looking to create. To date, 8K has been reserved for only niche usage. These developments bring it down to earth, to a level than can benefit the entire industry."