The system automates the switching of focus of PTZ cameras, for example, between different speakers at a conference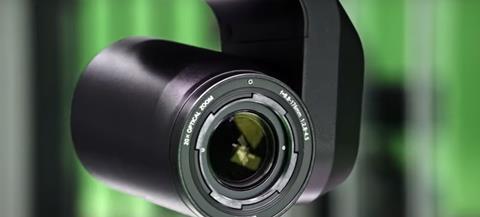 Panasonic has introduced voice-based camera tracking to its PTZ camera system. Sennheiser microphones are used to pick up the location of sounds and automatically switch the focus of PTZ cameras between different speakers.
Panasonic says the automated moves provide "smooth camera panning" and the system is "ideal for online conferences, training courses or lectures, for example, when questions are asked from the floor, or a new person speaks at the conference table."
The system uses Panasonic PTZ cameras and TeamConnect Ceiling 2 microphones from Sennheiser. They are managed centrally by a controller via the network.
The audio-based tracking can be used in conjunction with Panasonic's existing automatic motion tracking and optional face tracking software (AW-SF100 / AW-SF200). This would enable a main speaker at a conference to be recorded by a PTZ camera via auto tracking, while other participants are filmed with a second camera when they speak using audio-based tracking.
Priority can be given to individuals to avoid unintentional panning to conversations in the audience. Clip-on microphones can also be integrated into the AV recording schedule and prioritised accordingly. A slight time delay can also be set for the PTZ camera, so that it only pans once there is a permanent audio signal.
The system means there's no need to have a camera operator or mixer technician on site.
Guilhem Krier, Panasonic head of new business and market development at MEBD & DSC Business Units, said: "There's currently a huge need for high-quality and automated AV formats. Board members and politicians are reliant on online formats at employee meetings and press conferences; and schools and universities are teaching digitally. The audio-based control of our PTZ cameras increases the level of automation and makes handling more convenient. Both are a huge advantage."