Leading facilities reveal costs will rise for the first time in a decade as demand outstrips supply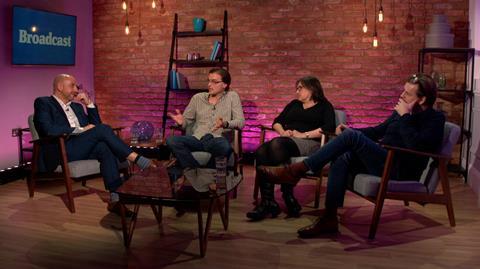 Some of London's leading post-production houses have told Broadcast that the cost of using their services will increase for the first time in years during 2019.
An influx of work from both streaming services and traditional broadcasters, coupled with stagnation in the London post sector over recent years, has led to demand outstripping supply.
This subtle shift in power from the client to the facility has given the post community the confidence to hike prices – for the first time in a decade – for those choosing to carry out work in London.
Speaking at a roundtable debate organised by Broadcast (pictured above), The Farm Group chief executive David Klafkowski said: "The industry is in for a change in central London where rates [for post-production work] will go up. They haven't changed for years and it will happen now. If your production wants to be in central London, there will be a 'London weighting', for want of a better word.
"It has to become more expensive otherwise none of us will be left in business. It won't be a big-bucks rise, it's just that there will be an understanding that certain things are going to cost a bit more."
While The Farm Group will put up prices at its London facilities, Klafkowski said it will continue to offer clients who work remotely or with one of its regional offices more cost-effective options for completing their work.
Post houses in the capital are dealing with mounting costs and clients will now have to shoulder some of that. Klafkowski said: "We are committing to a London living wage for our staff, while at the same time we're being hammered by business rates and rents in central London. We have probably been foolish in not already passing on those costs to clients."
Passing on costs
Clear Cut Pictures managing director Rowan Bray agreed: "The cost of entry in providing post services in London is impractical. Clients need to understand what's involved in doing something. When you hire an offline edit room, you're not even paying what a hotel would charge you for a room. And yet you have technology, 24/7 specialist staff, bookings people, runners and so on. All of that stuff costs money."
Previously, post firms have offered offline editing as a loss-leader to entice production companies to use their much more expensive finishing services. However, this has meant clients do not fully appreciate the costs associated with offering these services.
Klafkowski said: "It's the monster we've created. We have kept our premium mastering/ finishing rates high, and in order to guarantee that work, we built offline facilities that service those rooms. It's logical for a client to wonder why they are doing their online edit in the same room as their offline, and it's now costing the same for an hour as it did for a day.
"The argument is there's a different set of skills required, but in fact what you're paying is the total budget, not the individual hourly rate for that environment."
It's unclear if the price increase will come through a realignment of costs for different services or through a general increase in hourly/day rates across all services.
Envy head of operations Jai Cave said: "We are looking at a higher volume of work coming through in the next year. Everyone is looking busy, so now is the time [a price rise] can be looked at."
➤ Broadcast's roundtable debate at TOG Studios in December 2018 was filmed. An edited version will be made available later this month on broadcastnow.co.uk