The VFX house supplied 215 shots and 12 assets for the second series
Goodbye Kansas Studios has revealed its work on the second series of Alex Rider, which was released on IMDb TV in December 2021.
The VFX house supplied 215 shots and 12 assets for the show, which brings Anthony Horowitz's popular teen spy novels to screens. The first season of the series premiered in 2020, with Horowitz serving as an executive producer alongside Eleventh Hour Film's Jill Green and Eve Gutierrez, and series writer Guy Burt. The series was distributed worldwide by Sony Pictures Television.
The second series sees Rider have to defeat a villainous video game, with technological villains, holographic illusions, and explosions meaning that VFX became an important part of moving the plot forward.
Goodbye Kansas was the primary VFX vendor, with the team led by VFX supervisor Jim Parsons and CGI supervisor James Sutton from the studio's London division.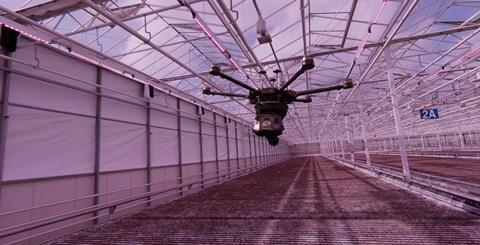 One of the key VFX sequences revolves around a deadly drone that begins destroying everything in its path. "Like all digital assets, the drone started with some good references and concepts," said Sutton. While there were several practical drones on set to provide point-of-view action and act as stand-ins for both timing and eyelines, Goodbye Kansas were responsible for developing the digital asset of the killer drone.
"The challenge for us in 3D was that our killer drone was in essence a hybrid of a commercial drone and a heavy duty Gatling gun. We had to first make sense of its construction and overall design language. A lot of effort was made researching military hardware and determining how the mechanics would function being sure to reference component parts and materials from real world examples. Staying true to real world examples in this way really helped push the realism of our drone."
Parsons added: "The animated CG drone was enhanced with numerous 2D effects from the compositing team producing some exciting shots." The CG team created the animated drone with the compositing team adding additional elements and details including Gatling gun shells, tracer fire, laser pointers, and smoke. The scene ends in a violent drone chase, necessitating the combination of compositing and 3D to create the effects of damage, including bullet holes and fire.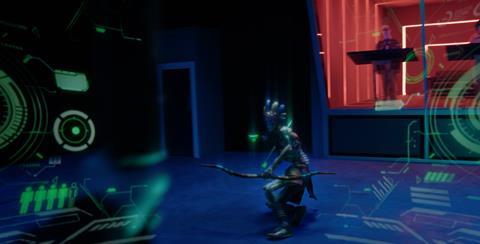 Along with killer drones, the series also includes several augmented reality skeletal warriors. These characters appear in a sequence in which Rider dons a headset to see them and a suit to feel pain points when hit. To create this incorporeal effect, the asset designs had to maintain an air of fantasy about them.
A key challenge within these sequences was maintaining the show's realistic feel while developing this fierce, "video-game-style" character design. The team's research involved both ancient Aztec imagery and game character designs from Mortal Kombat and Killer Instinct as reference points. "It always had to have a game element to it," said Parsons.
Following the character design, the next step was pinning down the animated movements through motion capture. With Goodbye Kansas Studios' motion capture studio unavailable due to pandemic restrictions, they had to get creative with performances.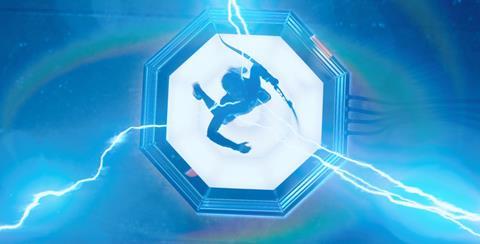 Parsons said: "We had to go for an alternative option, which was three men - two dancers, and one stuntman - dressed in green outfits. They performed on the set so that Alex Rider actor, Otto Farrant, could have a reference for aiming. We filmed them in their suits, and used their movements as the basis for the animation of the skeleton warriors."
To utilise the filmed movement, Joe Arnold, head of tracking, and Fredrik MacLeod, creature supervisor, developed a solution. They explained: "We captured the movements through roto anim, a process which extracts the movements from film to digital space. Once in the digital realm we were then able to map these movements to our Aztec warriors. It then required just a little bit of animation cleanup, plus secondary animation for the costumes. This process produced around 70% of the animation for the sequence, proving to be a very effective approach."
From Goodbye Kansas' Stockholm office, VFX supervisor Staffan Linder then polished multiple shots to add extra character to the creature animations. These included the warriors putting hands on hips, laughing, and moving their fingers while they're preparing to shoot their bow and arrows at Rider.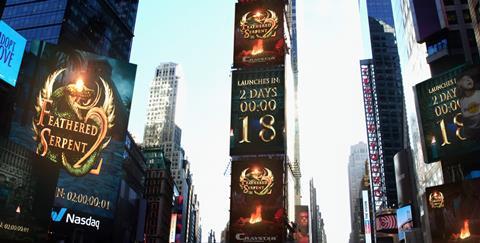 For Sutton, a VFX highlight of the sequence was a shot in which Rider shoots three of the warriors in quick succession: "It's quite a moment - Alex is getting into a rhythm of defeating the warriors by this stage. Pop, pop, pop, one by one, the characters digitize into glowing cubes that fall to the ground. It's really quite satisfying to see them disintegrate one after the other."
While maintaining realism was an important aim, Parsons revealed the rules were sometimes bent for creative expression: "For no reason whatsoever, one of the Aztec skeleton warriors becomes a giant and then shoots lightning out of his eyeballs.
"The director of this block, Rebecca Gatwood, just thought it was cool. It was a highlight for me - I thought it was a brilliant shot. Sometimes, you've got to go with 'cool' over 'reality'."
With regard to the warrior's design - the team looked back at Ray Harryhausen's Jason and the Argonauts designs. Sutton said: "For us, this is our little nod to that work, rather than necessarily a direct reference. It's nice to think that we can follow in those footsteps when developing new works."