IMG VFX, MPC Episodic, Freefolk and The Farm Group reveal their work on Sky/HBO's unique drama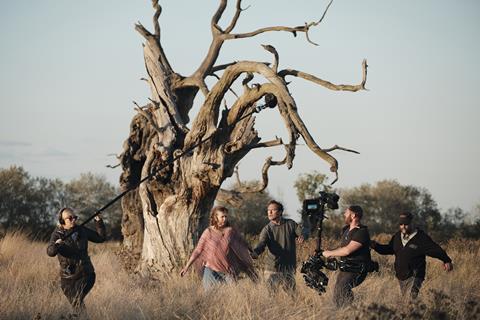 Sky Atlantic/HBO thriller The Third Day is a six-part drama and theatrical event, set on a mysterious British island – it's a distortive world where all is not as it seems.
The Third Day has three separate but interconnected stories that all take place on Osea Island; Summer, Autumn and Winter. Summer consists of the first three episodes and is directed by Marc Munden. Autumn a theatrical event created by theatre company Punchdrunk, which took place on Osea island on the 3 October 2020. Winter is episodes four, five and six, and was directed by Philippa Lowthorpe. The post-production supervisor on the series was Bejhan Kalantar.
VFX Supervisor Ivor Middleton led the VFX on The Third Day, through his company IMG VFX, and working very closely with both directors, creatively developing ideas throughout. As The Third Day is very much a drama piece, the VFX were often invisible, but integral to the dramatisation.
Middleton said: "In a distortive world we had to create photo-real effects that in reality were impossible, and they had to look subtle to fit in with the tone and look of the series. Many of the shots were quite complex and, in tying in with the symbolism and mythology of the narrative, they had to be created to appear at exactly the right moment to enhance and intensify the dangerously enchanting world. Pulling this off was essential to the viewers understanding. The VFX had to be subtle and not overpower.
One of the fascinating things about the show is that it is set on Osea island, which is a real island with a causeway, which is only open twice a day, in the Blackwater Estuary, and a good part of the show was shot there. As you can imagine this was quite a logistical problem to solve for the production. We were cut off by the tide just as the protagonists are in the script."
Middleton, along with VFX Producer, Rob Delicata, carefully selected five vendors to work with on the project. The facilities involved were IMG VFX; Freefolk; MPC; and Union.
There was a broad range of shot types involved for all vendors, including environmental work, sky replacements and changing coastlines. The island had to look more remote than it actually is, so VFX modified the horizons. For the causeway itself, the filming window was narrow due to the tide, so a great deal of work went into matching water levels and getting them to look right for the narrative.
As the causeway plays a key role in the story, the aerial shots were stylised and, apart from the elements of Sam in the car, were created entirely in CG. As the only way on or off the island, these shots show how it is connected to the mainland by a serpentine umbilical like slither of land.
There was a good deal of creature and animation work that involved shots with thousands of crabs, crickets, a plate of meat which comes alive, and many more.
'Summer' concludes with one of the biggest shots undertaken where a swarm of locusts rise above the island.
There were numerous challenges with the VFX work, one of the most challenging and creative was the acid sequence that spanned episodes two and three.
Middleton explains: "IMG handled quite a few shots in this sequence – the meat coming alive in the ritual room, and the stone sweating at the chapel – we also picked up and finished quite a few shots which other vendors had started, but were unable to finish due to the Covid crisis.
The sequence also involved people sitting around a fire wearing strange masks, the intention here was to make it ambiguous as to whether the people were wearing masks or not, so looked like faces, but with something very odd about them. One of my favourite shots is the moment that Sam is led away by Mrs Martin and seemingly floats up above the street, again this was a shared shot that we completed. While the shot was filmed in camera, we added people from an element shoot floating up in the sky, defying gravity, and dancing on the roof of the Seabird Hotel. At the cast and crew screening some mentioned that they didn't remember shooting people on wires that night, so I guess we got that comp right.
The director (Marc Munden) didn't want to be too prescriptive with the VFX. He was looking for all involved to bring their creativity to the sequence – it was a collaborative process of concepting and developing ideas throughout."
The show's overall producer, Adrian Sturges said: "Ivor and IMG took on a large number of shots for the show, some of which ended up needing a very inventive and creative approach. I was impressed by his team's dedication to getting the results the directors were looking for. The Third Day is a really ambitious project that was looking to break new ground – in VFX as well as in every other department – and Ivor had a really important role to play in realising that ambition."
Ivor joined the project during prep stage, supervised the shoot that took place mainly on Osea but with a set interior of the Oyster Pub at 3 Mills Studios in London.
When the final shots were delivered 14 months later in August 2020 the world was a very different place, and the majority of the post-production took place during the height of lockdown.
VFX producer Rob Delicata explains: "From a technical perspective we had to switch to remote working with all our vendors overnight, but it was surprisingly smooth. We used a combination of Zoom and Google Meet for daily communication and Evercast and Clearview for client review and shot approval. For a company like IMG this was perfect as they bring together experienced artists who mostly work remotely anyway so they had everything in place when the entire production and vendors had to switch to remote working."
MPC Episodic completed 157 shots for episodes 2-6 of The Third Day.
Its team was led by VFX supervisor Oliver Winwood and VFX producers Patrick Dean and Matthew Marshall, working closely with directors Marc Munden and Philippa Lowthorpe,
VFX Supervisor Ivor Middleton and VFX Producer Rob Delicata.
The team's work included a range of effects including creatures, CG crowds, FX simulations, environment extensions and seamless digital shot stitching.
MPC Episodic's work was undertaken and delivered entirely during the pandemic. Close to 100 artists based in London and Bangalore were equipped to deliver shots while working from home, where they were able to connect to MPC's software tools and studio servers. Internal reviews were conducted through shared virtual spaces, review tools and video conferencing systems allowing real time feedback with directors, showrunners, VFX production crew and artists.
Executive VFX supervisor Pete Jopling said: "We had to very quickly find new ways of working, particularly with the way our teams communicate and collaborate. We also adopted a broader generalist approach to shot work. Each of these things combined not only made the successful deliver of the show possible, but also make it a hugely rewarding and enjoyable experience."
The most challenging sequence MPC's artists faced was for episode 3, 'Sunday - The Ghost', when 50 million locusts swarm over Osea covering the entire Island and beyond.
The visual effects work required to bring the scene to life was a big undertaking, working across each discipline in MPC's pipeline from animation, crowd and FX through to lighting and final composting.
Animation, crowd and FX simulation artists used a variety of reference footage and in-house proprietary software to ensure the CG locusts not only looked photo-real but also behaved in a realistic way.
To add an additional layer of complexity, the scene required a a complex stitch to seamlessly blend two very different environment plates together. The first plate was shot using a handheld camera at ground level, while the second was a shot taken using a drone which launches into the sky.
MPC 2D supervisor Izet Buco oversaw the digital stitching work, drawing from his experience as 2D supervisor on the Oscar winning 1917.
Other shots completed for episodes 2 and 3 included surreal sequences in which Jude Law's character Sam takes LSD and finds himself in a forested area of the Island.
Art director Gurel Mehmet and VFX supervisor Oliver Winwood worked closely with Ivor Middleton to generate concepts to visualise the creative brief and then decide on the best VFX methodology.
This often required a bespoke approach as each of these unique visual creations had to support very esoteric moments in the story. VFX artists crafted CG animated corals growing from the trees as well as moving tree top extensions depicting 'sedura' masks. The unsettling scene was shot in the day but later made to appear as if it were late at night to enhance the other worldly nature of the scene.
Episodes 4-6 required invisible and augmented effects work to help tell the story. MPC Episodic's in-house concept artists were able to draw up environment designs to illustrate director Philippa Lowthorpe's vision. MPC's VFX artists then got to work, creating effects including digital blood FX, burning houses and DMP environments to replace the green screens used on set.
The key sequences Freefolk worked on include the acid sequence, crickets, the causeway and rain. Within the sequences, the VFX involved compositing for clean-up and also compositing CG animated elements such as petrified forest branches, crickets landing on Sam's phone and sparks.
Freefolk's work included designing and animating petrified trees in part of the Acid trip sequence; the enhancement of sparks in the electrocution scene; enhancement and extended waterline; and adjusting the horizon to assist with the continuity of tide level in the causeway scenes.
It also worked on the animation of a cricket landing on a mobile phone, and the addition of a deluge of rain. It had to enhance the appearance of phone handset to look broken.
Additionally, Freefolk's corrected the continuity in boat windows, matching water levels between shots and replacing broken glass in boat windows. It also added blood splat to a character when he shoots himself in the head, and changed the photo of a character in a newspaper.
Its clean-up work included removing the shadow of a crane in a cornfield; removing posts in water, crew in water, weights from the side of the pond, gas canisters/barriers from the beach scene, and the underskirt of a dress.
The series was graded by Farm colourist, Aidan Farrell using Digital Vision's Nucoda. The look of the films are separated into two distinctive styles. In the first three episodes – Summer – the style used in the grade involved using a very considered colour palette with very strong contrast, grain structure and tone.
Although the first three episodes are set around the summer season, the key objective from a grading point of view was to avoid usual grading clichés. From this meant an approach of not embracing the warmth and golden hues and reaching out for the obvious in order to achieve a stereotypical normalised glossy television programme look.
In the final three episodes – Winter – Farrell's approach was of complete contrast to that of the first block and to embrace a very soft and pastel grading technique using very minimal colour tones and washes throughout the mid tones and darker areas of the frame.
Each scene is intended to be representative of a hand tinted photograph but yet still appear very photographically natural.
The brief for 'Winter' from director Philippa Lowthorpe from the outset was that her vision of every frame of the film was to be like a painting with very subtle texture and mood but retaining a softness and elegance throughout.
In 'Summer', director Marc Munden required a look of high saturation, contrast and of distinctive style but in a very Munden-esq unique and bold approach.
Every frame was carefully manipulated to create the fantastic colourful but yet monochromatic tones intertwined keyed and mixed within the frame.
Farrell and Munden have previously worked together on series including Utopia and The Devil's Whore, so a major objective was to create something as visually striking yet completely different and raise their game.
Farrell said: "I feel the finished result from a grade perspective is a truly new and fresh look rarely seen on our television screens."
Producer Adrian Sturges added: "The Third Day was intended from the outset to be a visually arresting piece, with two distinctive halves on television, accompanied by an innovative live element. It's been really exciting to see the passion and invention that the post-production team have brought to it, never letting the challenges of lockdown dampen their enthusiasm for the creative opportunities of the show."
The series was shot on the Sony Venice camera and graded from the outset in UHD SDR in Aces 1.1 using 16-bit EXR files from the conform followed by an HDR grade pass.
Owen Hulme completed the online and FX using Autodesk Flame. It was post produced by Lauren Andrew.