Red Lab London is part of a new approach to R&D at the global media services company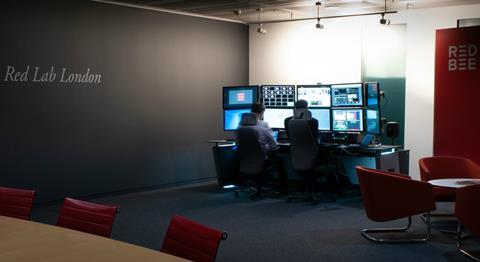 Red Bee Media has opened a new R&D facility in its Broadcast Centre office, called Red Lab London.
Red Bee is now bringing its R&D efforts under the Red Lab name – with other connected facilities planned across the globe.
Red Lab facilities are due to open in Sweden and the Netherlands later this year.
Each will house a private cloud platform for remote testing, as well as a meeting and collaboration space for broadcast and network engineers and solution architects.
Red Bee Media has previously run innovation projects in its multiple hubs, but Red Lab is a way of formalising its R&D activities, creating dedicated and connected research spaces under one banner.
"We used to have engineers dedicated to each customer or project, but with the migration of all of our customers onto a shared software-based technology stack, we need to organize in a very different way. Red Lab London allows our multi-disciplinary teams to experiment and collaborate so that we can proactively drive innovation across our services," Alex Dubiez, head of playout solutions.
Red Lab was used late last year to test the control of remote platforms in other UK hubs and across mainland Europe. In testing customer demos, Red Bee Media was able to show full integration between media management, playout, distribution and OTT platforms – with content flowing between all platforms and across five countries. The Red Lab was also used while concluding testing for the world's first software-only playout deployment.
"We are transforming the way we are thinking as broadcast engineers. We have never been able to experiment this quickly before and to come up with an idea and try it without worrying about impacting a running service is very liberating. Previously we could only test on individual system components or copies of an entire system, which is expensive and only applicable to one customer. All successful ideas can now be of benefit to all of our customers," said Iain Shields, technical product manager for playout.