Two-day trade show takes place at Olympia London next month (11-12 May 2022)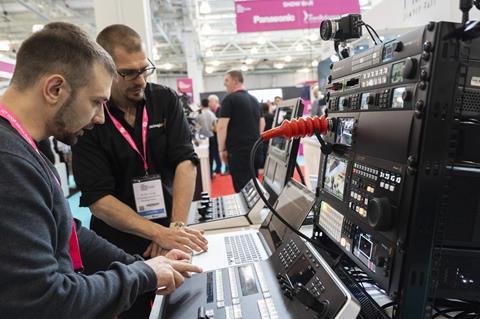 The Media Production and Technology Show at Olympia London on 11-12 May 2022 will host two days of free-to-attend seminars focused on audio.
The show is run by Broadcast Tech's parent company MBI, and is the UK's biggest annual event for the television production sector. It's both an exhibition and conference covering all genres of TV and all aspects of production (pre-production, production, virtual production, post and distribution).
MPTS 2022 features keynote sessions from Louis Theroux and Adam Deacon, and an audience of more than 7,000 are expected to attend the show over the two days.
The post-production theatre will have nine free seminars, covering topics such as VFX training, Multi-dimensional editing, Editors' masterclasses, Animation Post-Production, Grader's Masterclass, Archiving and restoration, Remote Working & Cloud, and more.
There will also be 30 dedicated post-production exhibitors, showcasing the latest in cutting-edge technologies, services and techniques.
The full Tech Theatre seminar programme at MPTS 2022 is:
DAY 1 (Wednesday 11 May 2022)
In Conversation with Sinead Greenaway (30 minutes)
Chair
Carrie Wootten, Managing Director - Rise
Speaker
Sinead Greenaway, Director, Broadcaster & End User Technology - BBC
Supported by Rise we welcome Sinead Greenaway to open the Technology discussions at MPTS 2022. Discussing her extensive careers, the transformation projects undertaken, the technology changes of the past and in the future, her role at the BBC and how we need to be encouraging more women to work in the broadcast technology sector.
Economics and Efficiencies of Hyperconvergence (30 minutes)
Speaker
Raphael Samad, Business Development Manager for Production Switchers and Video Servers - Ross Video
This presentation will outline how the concept of hyperconverged platforms can modernize workflows in production environments. The benefits of these platforms include increased efficiencies in operations, maintenance, and operating costs. The session will also feature a brief discussion about important aspects to consider when implementing a hyperconverged platform in your facility.
Flexible Media (20 minutes)
Speaker
Matthew Brooks, Lead R&D Engineer - BBC R&D
Imagine a BBC that is truly for you. A BBC that gives its audience control of how we fit into their lives - where content flows seamlessly across devices. A BBC that empowers commissioners to deliver experiences that adapt to each audience member whilst maintaining the BBC's integrity and impartiality. This is Flexible Media. In this session, BBC R&D's Matthew Brooks will introduce Flexible Media, a flavour of Object Based Media which combines new commissioning, editorial, and technical approaches to media production. You will learn how Flexible Media technology could transform production, enabling our production teams to do more for less, as well as transform the audience experience by wrapping our content around their lives.
Cloud Economics - what's the rush and what's the cost? (40 minutes)
Chair
Lisa Collins, Industry Consultant
Speakers
Nick Soper, Tyrell Cloud Platform Owner - Tyrell
Jess Nottage, Technical Director - Clear Cut Pictures
Jonathan Morgan, Managing Director - Object Matrix
Tracie Mitchell, Managing Director - Greenfish.io
Fired by the pandemic the journey to cloud is definitely on but correct decision making can get lost in the rush. While more producers are migrating their workflows to cloud, many prefer to keep their data closer to home. Some companies are hesitant because they question whether cloud fits their business cycle. Cloud economics remains a serious impediment and can come as a shock. What's more Cloud is not a zero-sum game with many types of virtualized and hybrid environment to consider.
Not every company is on the same journey or moving at the same pace. It pays to investigate which cloud works best for your business.
Experts at this session uncover wrinkles in the 'cloud or bust' narrative with guidance for making the right move at the right cost.
Future Tech Trends (35 minutes)
Speaker
Dr Alex Connock, Media Business Academic - Oxford-Exeter & NFTS Co-Chair
A look at the future tech trends from leading expert Dr Alex Connock form the Metaverse to Virtual Production.
Future of Connectivity (20 minutes)
Speaker
Purminder Gandhu, Technology Transfer & Partnerships Manager - BBC R&D
A look at how connectivity is evolving from 5G to Leo and how this has had an impact on news contribution, include some stories of Ukraine, 5G NPN, differences between types of deployments and future ideas such as network slicing and traffic prioritisation.
The 3D DOP (30 minutes)
Chair
Jamie Allan, Media, Entertainment & Broadcast Lead - EMEA - NVIDIA
Speaker
Brett Danton, Director/DOP
In this session we'll speak with Brett Danton, world renowned director and DOP, to hear how the converging physical and digital methods of planning and executing cinematography is allowing him and his clients more creative control over the entire process. As the quality of real-time rendering for visualisation increases, we'll learn how Brett can now accurately light and plan entire shoots in a virtual space and then integrate both physical shooting with virtual production and full CG shots with confidence.
DAY 2 (Thursday 12 May 2022)
State of the Nation: Technology (40 minutes)
Chair
LJ Rich, TV Presenter & Broadcaster
Speakers
Olly Strous, Chief Technology Officer - Zinc Media Group
Morwen Williams, Head of UK Operations - BBC News
Dave Travis, Group Director of Content, Broadcast & Platforms - Sky
This panel will discuss the technologies that have driven the distribution of content over the last two year, has remote production and working transformed their business or been a hinderance, what do they want to see in future tech innovations (cloud, remote production, archive and data management, digital transformation) and what have they particularly learnt through the challenging times around the technologies they have access to right now?
Tokyo 2020 Paralympic Games Case Study with Channel 4 and M2A Media (30 minutes)
Speakers
Dom Foulkes, Online Engineering Manager - Channel 4
Leon Box, Chief Delivery Officer - M2A Media
In 2020, Channel 4 had the exclusive UK rights to the Tokyo 2020 Paralympic Games. Given the high profile nature of the live event and the large volumes of content that it would generate, a fresh look at the broadcaster's live capture service was required. In this case study Dom Foulkes, Online Engineering Manager at Channel 4 and Leon Box, Chief Delivery Officer at M2A Media will present the cloud based innovations devised by M2A Media, in collaboration with Channel 4, that ensured the broadcaster's live capture of the Games would meet their audience's expectations, sharing their learnings along the way.
5G Records (20 minutes)
Speaker
Ian Wagdin, Senior Transfer Manager - BBC R&D
Overview of 5G R project, look at the 3 use cases of audio, studio and 3D capture. Importance of advanced networks, support for multicam, control; and timing, cover SA 4 work and look at interoperability with existing IP based solutions.
Remote Production using the Cloud (30 minutes)
Speaker
Simon Reed, Managing Director - Evertz UK
This session will cover: growing interest and demands for cost effective production for more content; when remote production becomes more "Distributed Production" where participants are coming from various locations, production teams are scattered around and the main processing blocks are either on-prem or off; the challenge of moving existing production workflows to the cloud and finding resources to do this; opportunities for a new approach to production; and suggested paths for this new environment.
SMPTE - A Year In Review (30 minutes)
Speakers
John Ellerton, Head of Futures - BT Media & Broadcast, and Chair of SMPTE UK
Polly Hickling, Course Lease- Media Technology - Southampton Solent University
Richard Welsh, SVP Innovation - Deluxe
Over the last year SMPTE has gone through considerable change across its board members both in the US & UK. SMPTE is the global society of media professionals, technologists and engineers working together to drive the industry forward Technical brilliance, so what have they been up too and what do they have coming up next that you need to know about if you work in technology in the UK.
The Challenges of Long-Term Digital Preservation (30 minutes)
Speaker
Denis Leconte, VP Technology - IMES
While the vast majority of media professionals rely heavily on the cloud for media storage, unfortunately digital storage, including cloud, was never designed with long-term preservation in mind. There are multiple ways in which digital storage methods can fail, and those who are responsible for the safekeeping of media should be aware of these pitfalls and how to solve for them – or work around them.
Denis Leconte, VP Technology for Iron Mountain Entertainment Services, discusses the current thinking on this topic from his recent white paper published with the Archive Working Group of the Entertainment Technology Center at University of Southern California.
Relocating Morning Live to Manchester ABC Building (30 minutes)
Chair
Jamie Brewer, Head of Broadcast & Post Production Rental - Gravity Media Services
Speakers
Dave Rutter, Production Engineering Manager - BBC Studios
Meryl McLaren, Director of Media Services & Facilities - Gravity Media Services
Charlie Ingall, Executive Director - VERSA Studios
Paul Sykes, Head of Systems Integration - Gravity Media Services
Join the team from BBC Studios, Versa Studios and Gravity Media as they delve into how they worked together to relocate the popular daytime show Morning Live in just two months. The show which launched on Monday 21 February at 9.15am from the new roof top studios in the ABC Building, Quay Street, Manchester, features a 'northern powerhouse of women' hosts made up of Sam Quek, Kimberley Walsh and Sara Cox who join Kym Marsh and Gethin Jones as permanent members of the presenting line up. Enabling the broadcast from the new VERSA ABC Studio, Gravity Media worked closely to deliver the show from a brand new studio it had created in the heart of Manchester. The studio boasts a highly technical specification where Gravity Media was appointed to provide systems integration, technical equipment supply and rental for both the studio and wraparound edit and ingest with ongoing engineering support.
Remote Post: Do we need Soho anymore? (40 minutes)
Chair
Lisa Collins, Industry Consultant
Speakers
David Klafkowski, Founder & CEO - Racoon
Zeb Chadfield, Founder & CVO - The Finish Line
Ellen Walder, COO - BeloFX
Michael McKenna, CEO & Co-founder - Final Pixel
The pandemic has acted like a time-machine and accelerated adoption of remote and cloud hosted technology. At the same time, it has afforded the industry a chance to re-set working arrangements for an all-round healthier productive environment.
Four executives from postproduction houses discuss the work/life/creative benefits to their production teams, to freelance talent and to clients of working with cloud-based service models.
Plus: If remote technology is maturing, does the cost of cloud also make economic sense? Is in in-person collaboration still of value and does it make sense to own bricks and mortar? Is the loss of Soho's unique value as a creative village at risk of undermining the UK's potential to attract overseas production? How does the remote post model evolve from here?