Sale of hire firm's pro audio equipment follows retirement of founder Nigel Woodford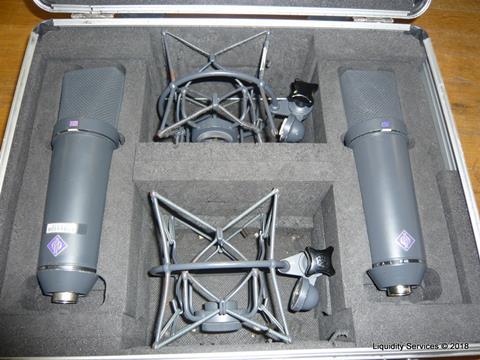 All the assets of professional audio equipment hire firm Richmond Film Services are to be sold by auction in September.
The sale follows the decision of founder Nigel Woodford to retire.
Liquidity Services will handle the sale of Richmond Film Services' assets, which will be sold by auction through GoIndustry DoveBid, a Liquidity Services e-commerce marketplace.
GoIndustry DoveBid is accepting pre-auction offers on packages of equipment from now until 31 August 2018. The auction will open on 3 September 2018 and close on 19 September 2018.
The auction features a wide range of pro-audio equipment including mono and stereo microphones, radio microphones, valve microphones, digital recorders, analogue mixers and amplifiers plus accessories across all items.
Richmond Film Services supplied the sound equipment used to record the Queen's Christmas Day Message on several occasions and have identified the specific AKG C422 condenser microphone that was used for the recording. This will be Lot 1 in the auction, and all proceeds from the sale of this item (including Liquidity Services fees) will be donated to The Film & Television Charity, which has the Queen as patron.
"Richmond Film Services is a big name in the pro-audio world and this sale is an unparalleled opportunity to acquire some of the highest standard pro-audio equipment that we have ever seen come on to the second-hand market," said Liquidity Services senior vice president Nick Taylor.
Richmond Film Services was originally founded in 1973 at The Old School in Richmond, Surrey, before moving to its current location in Shepperton Studios in early 2016. Richmond Film Services clients have included BBC (The Proms, Wimbledon), ITV (Royal Variety Performance) and Sky as well as providing equipment for films including Little Voice, The Mummy (2017) and Mama Mia.
Specific equipment available includes:
- Neumann U87Ai and TLM170i mono microphones
- Neumann SM69 FET stereo microphone
- Neumann M149 valve microphones
- Schoeps CMIT5U, CCM4 and CCM41LG microphones
- Sennheiser MKH40 and MKH80 microphones
- Sennheiser 416P48 short gun microphones
- Nagra IV-S analogue recorders and Nagra VI digital recorders
- Sound Devices 633T, 664 and 688 mixers with integral recorders
- Sound Devices 744T and 788T hard disk recorders
- Audio Developments mixers including models AD144/10, AD144/16, AD146/12 and AD149/8
- DPA 4060, 4061 and 4070 lavalier microphones
Details of the auction can be found here: http://gidb.auction/Richmond