The Screenskills Rise Mentoring Programme will mentor 25 women in the film, television, VFX, animation and games industries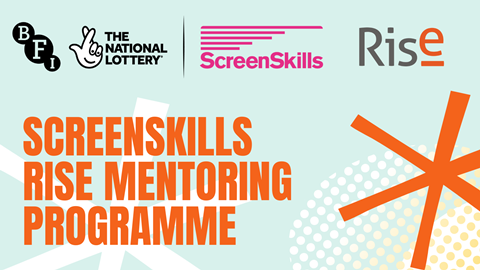 Rise, the advocacy group for women in broadcast, and Screenskills have announced the mentoring partnerships for their 2021/22 Mentoring Programme.
Funded by ScreenSkills as part of the BFI Future Film Skills programme using funds from the National Lottery, the scheme sees a range of experienced industry leaders will offer expertise, knowledge and guidance to 25 women, chosen from over 50 applicants, across England within the film, television, VFX, animation and games industries.
The support includes 12 hours of one-to-one time with the mentor, the opportunity to meet the mentee group on a monthly basis, as well as attend networking events, workshops, and seminars throughout the six-month programme.
Jane Saunders, ScreenSkills mentoring manager, said: "ScreenSkills is thrilled to be working with Rise, offering guidance, encouragement and support to our talented, women as they take their next step towards building a career in the UK screen industry.
UK Mentor and Mentees Pairings:
Joanna Alpe, chief commercial officer, Bild Studios will mentor Hannah Robinson, production development producer, Dock10
Paula Bargery, sales director EMEA, key account management, VIZRT will mentor Chang Li, business development EMEA and LATAM, Accedo
Susi Cardew, head of talent, disguise will mentor Sneha Varghese, service operation coordinator, Frame 25
Hannah Chambers, freelance broadcast engineer, will mentor Charlotte Pardy, junior broadcast engineer
Chrissie Collins, unit manager, Telegenic will mentor Claire Downey, technical broadcast manager, Aurora Media and Formula E
Lisa Collins, head of membership engagement, IABM will mentor Jodi Cranston-Perrier, consultant digital & production, K-TV
Katie Colledge, senior EMEA communications manager, Blackmagic Design will mentor Corinna Mason, communications executive, The DPP
Ben Davenport, VP global marketing, Pixotope will mentor Emily Wilford, head of partner marketing, BASE Media Cloud
Markela Debradou, guarantee broadcast engineer, NEP will mentor Rachel Dicker, graduate, Solent University
Karen Dunn, senior product lead, Sky will mentor Kiran Nirmal, operations manager, Prime Focus Technologies
Caroline Ewerton, VP production services, DAZN Group will mentor Laura Wignall, business development manager – production, Gravity Media
Jason Fiddes, senior strategy lead – TV & In-Home Experience, Sky will mentor Olga Nevinchana, senior research analyst, IABM
Lorna Garrett, managing director, Zest Technologies Limited will mentor Louise Seddon, head of global operations access services, Red Bee Media
Purminder Ghandu, technology transfer & partnerships manager, BBC R&D will mentor Gabriella Watkins, broadcast technician, Dock10
Marina Kalkani, CEO, M2A Media Ltd will mentor Evrem Rahsan Kayan, OTT solutions architect, LeaCoders
Pav Kudlac, MD & co-founder, Ovyo will mentor to be confirmed
Lesley Marr, director of operations, Molinare TV & Film Ltd will mentor Emily Heath, project manager, Easel TV
Lucinda Meek, CFO, IABM will mentor Shaunna Beedle, project manager, University of Oxford
Gabby Redfern, executive vice president global operations, BBC Studios will mentor Rimpal Shah-Matharu, content operations manager, DAZN
Michael Robertson, group vice president technology business management, Discovery Inc. will mentor Sarah Essoof, operations business analyst, Timeline Television
Dara Urquhart, head of live services, Red Bee Media will mentor Pilar Granados, live workflow manager, DAZN
Louise Wells, associate director, Bubble Agency will mentor Leanne Tomlin, marketing manager, Object Matrix
Charlotte Wheeler, event Ddirector, Media Production & Technology Show will mentor Melissa Bowen, roadshow event coordinator, CVP
Morwen Williams, director of UK operations, BBC News will mentor Emily Dunn, technology graduate, ITV
Laurissa Yeung Shea, business analyst, Discovery Inc will mentor Isabel Tulloch, Quality Assurance Operator, Sky UK
"The ScreenSkills Rise Mentoring Programme supports ScreenSkills commitment of investing in developing skills and talent across this sector. Our inspirational mentors are keen to give back, encourage and provide valuable insights, especially during what continues to be, an unsettling time."
Carrie Wootten, managing director of Rise, added: "We are really excited to announce the 2021 ScreenSkills Rise mentor and mentee pairing. The partnership with ScreenSkills enables Rise to extend its reach, and this new mentoring programme enables Rise to support and inspire another 25 young women totalling to over 70 mentees this year.
"I would like to thank ScreenSkills and the mentors as we embark on this new mentoring series. Their generosity and valued support enables Rise to deliver much needed mentoring schemes for women within our industry, providing the support they need to achieve their goals."