Management duo's new home following post house closure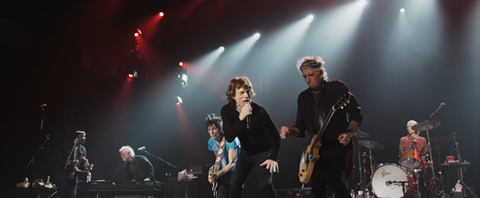 DCD Media has closed its post-production house Sequence Post, and the management team of managing director Suzie Swift and online editor Richard Barney-Griffin has been taken on by Evolutions.
Sequence Post was best known for its work on music productions, including Rolling Stones: Sticky Fingers Live at the Fonda Theatre (pictured above), Chase and Status's Love Me More promo and Apple Music films for Harry Styles and Haim.
Sequence opened in 2004 but was put into voluntary liquidation in 2012 after running into financial difficulties, before being acquired by DCD Media.
It provided editing, grading and finishing services from its office on Middleton Place in Fitzrovia, and partnered with audio specialist Wise Buddah to offer audio post.
Evolutions has taken on Swift as executive producer and Barney-Griffin as online editor. They will join Evolutions at the beginning of December, with the aim of offering a similar boutique-style service to what they provided at Sequence Post.
Music focus
"The Sequence brand will go, as it's purely an employment deal," Evolutions managing director Simon Kanjee told Broadcast.
"Suzie and Richard will be part of Evolutions and not work under a separate brand name. It's a people industry and, if you've got the right people, that's what counts."
Bringing in Swift and Barney-Griffin is a move back into music-focused work for Evolutions, which used to do a lot of work with MTV when it first opened, but hasn't had a great deal of music credits to its name since.
Kanjee said of the duo: "Over a six-year period at Sequence, they have been responsible for managing projects for the likes of The Rolling Stones, Adele, Coldplay and Ed Sheeran, among others. They've done a fantastic job of providing an excellent service to their clients and I've no doubt that they will continue to grow their area of business here."
Swift added: "We're going to be taking our skillset and clients and operating at the same level we've been doing at Sequence. The opportunity to have access to better facilities and resources and be able to tailor a service specifically around the needs of our clients is a dream come true."