Electronics company surprises with an early move into 8K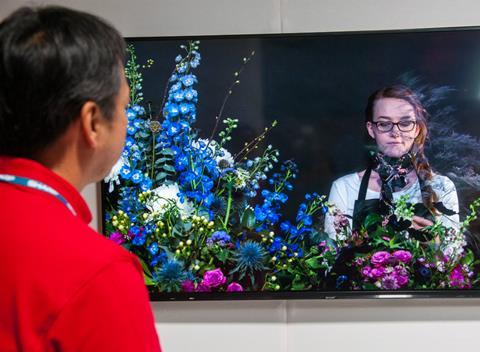 It's fair to say that Japanese electronics manufacturer Sharp isn't the first company you'd associate with broadcast technology innovation these days. But it's making a pretty convincing attempt at refreshing its reputation through pioneering moves in 8K.
During a three-day event Sharp put on in Edinburgh last week, among a plethora of printing products and large-format 'visual solution' displays was an 8K broadcast camera and a 70-inch 8K TV. Together these represent the first of Sharp's 'ecosystem' of 8K products, which will also include 8K broadcast receivers.
Sharp's move into 8K was first revealed towards the end of last year, but last week's demo at Inspire Expo 2018 was the first time its 8K camera and TV have been on show in the UK.
The demo (pictured above) captured and displayed live 8K images of a woman arranging flowers in front of a black background. The 7,680 x 4,320 pixel pictures (16 times the resolution of HD) from Sharp's 8C-B60A 8K (60p) professional camcorder (pictured below), as displayed on its Aquos 8K series TV, were beauti- fully coloured and incredibly detailed. The images had far more natural depth to them than any of the attempts at glasses-free stereoscopic TVs that were briefly all the rage at broadcast trade shows a few years ago.
"We're innovating with this new technology and are the first company to put an 8K camera and display together."
The camera is built around a Super 35mm-equivalent CMOS image sensor with 33 million pixels, and can output 8K uncom- pressed images in real-time at the same time as recording loss-less RAW 8K to proprietary removable 2TB or 4TB SSD drives inside the camera. A total of 40 minutes of 8K content can be stored on each 2TB drive.
Explaining Sharp's seemingly out-of-the-blue move into creating 8K broadcast products, visual solutions general manager, Europe, Sid Stanley said: "When we were purchased by Foxconn two years ago, we weren't doing well. But now Foxconn, which is the fourth biggest technology manufacturer in the world, is a majority shareholder in Sharp, we can push forward again."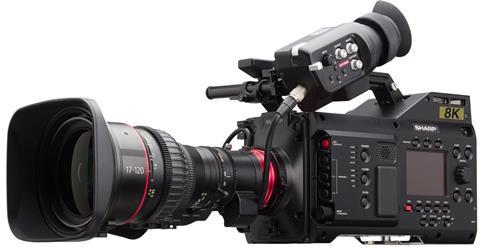 8K innovation
"We're back in the game and want to champion 8K," he continued. "We're innovating with this new technology and are the first company to put an 8K camera and display together. Now we want to listen to the market about how we take it all forward."
Stanley said that in Japan, China and Taiwan, the main target for its 8K products is the broadcast market. However, Sharp believes its potential customer base in Asia and Europe is much broader.
"As well as broadcast customers, we anticipate a range of business customers being interested in the 8K camera and TV, including high-end surveillance, gaming, events, medical and R&D imaging firms. But, at this stage, we're going through a learning process about who the end users will be."
There is no distribution path for the 8K camcorder in Europe as yet, but there will be a "clear channel in place" when Sharp goes to market later this year, said Stanley. He added that the 70-inch Aquos 8K series TV will go on sale in Europe in March. The 80-inch and 85-inch versions are in development.
The UK pricing for the camcorder and TV haven't been announced, but in Japan, where the camcorder is already available, it is priced at ¥8.8m (£57,300).
Both the 8K camera and TV will be on display at trade show ISE on 6-9 February in Amsterdam.