Pinewood Studios Group shares plans for its proposed redevelopment and expansion of Shepperton Studios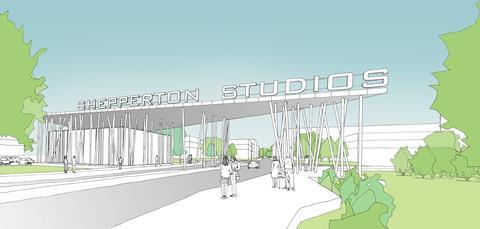 Pinewood Studios Group has released details of the £500m redevelopment and expansion plans it's hoping to get approved for Shepperton Studios.
The planning application, which is now with Spelthorne Borough Council, proposes to increase stage space at Shepperton by around 465,000 sq ft. It is designed to attempt to grow Shepperton to a similar stature and scale as Pinewood Studios.
With the Government's stated aim of doubling the revenue generated by film and high-end television production to £4bn by 2025, Pinewood Studios Group believes its plans are of national importance. It argues that together, the newly expanded Shepperton and Pinewood will be "vital facilities if the UK is to achieve this target."
The larger, redeveloped Shepperton will sustain (a very specific) 2,796 jobs in Spelthorne, along with a further (again, very specific) 837 jobs per year during the construction period.
Once finished, the new look Shepperton is anticipated to "boost productivity within the local economy to a total of £322 million (Gross Value Added)," says Pinewood Studios Group.
Andrew M. Smith, director, Shepperton Studios said: "The UK is currently missing out on a significant number of international films because of a shortage of sound stages. The British Film Institute and British Film Commission have been calling for more stage space to reverse this trend and the increased capacity proposed at Shepperton Studios will meet head-on the need for additional purpose built sound stages to accommodate blockbuster size movies."
Adrian Wootton OBE, chief executive, British Film Commission and Film London added: "The UK's increased popularity as a filming destination means a significant increase in studio capacity is now more essential than ever. Additional purpose-built studio space, together with an ongoing focus on skills development, is now crucial in order for us to continue to compete for major multi-million-dollar feature film and TV projects which have such a hugely positive impact on investment, employment, and tax revenue for both local economies and for UK plc".