Smartphones, 4G machine-to-machine streaming and a 'low-res' production gallery enable production team to track live footage of contestants on the run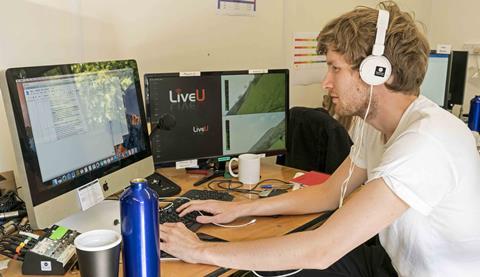 Sky One fact ent series The Heist, which is set in Thirsk, North Yorkshire, follows 10 members of the public who carry out a heist, grabbing £250k from a cash-in-transit van. Next, they split into five teams of two and attempt to lay low for 16 days and not get caught, with 14 former police detectives are on their tail, so they can keep their £50k share of the cash.
To capture all the action of the chase, Shine TV used a mixture of traditional filming techniques; smartphones; 4G camera links; tiny hidden cameras; and long-lens filming from vans hidden around Thirsk.
To find a suitable way to capture what each 'thief team' was up to, Shine worked with BT's Media & Broadcast division, portable live video company LiveU and its UK partner Garland Partners.
They used a combination of multiple portable LiveU transmission units, the LU-Smart smartphone app and LiveU servers, to enable live images to be sent from cameras and phones back to a story producer assigned to each thief team.
The 4G cellular network was used to transmit the images via BT's recently released machine-to-machine (M2M) SIM cards to make it possible for data to travel at significantly faster speeds compared to the normal consumer 4G capacity.
Shine TV series editor Tom Hutchings said: "We capped the LiveU streams as they weren't for broadcast, creating what we think is the world's first low-res broadcast gallery. As well as being able to view the relevant images, the story producers could also use LiveU's talkback capabilities to communicate with camera people when required. This created a seamless workflow. It worked brilliantly, and it was very cost-effective, too."