The space was created in Unreal by in-house agency, Sky Creative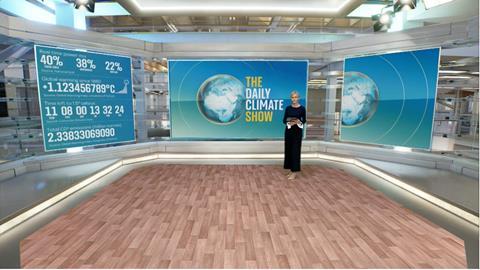 Sky's in-house creative agency, Sky Creative, has delivered a high-impact AR virtual studio set, programme identity and graphics package for Sky's new 15-minute programme format, the Daily Climate Show.
The virtual studio was built using Unreal Engine 4, as a "digital overlay set against the backdrop of the Sky campus' hub building's central atrium."
Sky Creative executive creative director, design, Ceri Sampson, said: "This is a typical example of how the breadth of skills within Sky Creative's design team collaborate to produce ground-breaking work. Brand identities is something that we have long specialised in but when you add to that the know-how of our Creative Innovation team, the end result is something that we are very proud of."
Sky Creative news design team creative director, Harry Ward added: "We have created a fresh new programme identity, studio and graphics package, built around ever-changing data and statistics designed to highlight the immediacy of the global warming problem. It's great to be part of an organisation that is serious about covering the climate story with a daily programme, designed to reach audiences on all platforms".
Sky Creative creative director, innovation, Jason Landau, said: "It's great that Sky News shared our drive and ambition to deliver a fantastic new virtual studio and for such an important topic, they backed us by upgrading their current virtual studio to Unreal, which gave us the opportunity to push the boundaries and create an amazing space. The team also worked closely with Sky's Graphics and Data team to deliver the engaging live data, which is used within the broadcast design and virtual studio."