The YouTube content creators have been given ongoing access to the high-speed robot to capture their hugely popular slow mo videos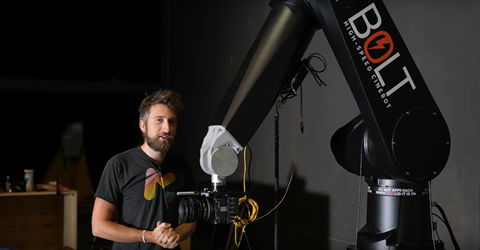 YouTube stars, the Slow Mo Guys, have started using the MRMC Bolt Cinebot to capture "incredible footage of never seen before angles".
The high-frame-rate specialists have over 14 million subscribers to their main YouTube channel and have received in excess of 2 billion views on the platforn. They have been given the opportunity to utilise the Bolt for their videos, to further elevate the quality and shooting options for their slow-motion captures.
The Bolt "high-speed robot" goes from standstill to full high-speed motion and back in a fraction of a second, creating beautiful shots of the Slow Mo Guys' slow-mo footage.
MRMC has offered The Slow Mo Guys ongoing access to the Bolt. Gavin Free of The Slow Mo Guys, said: "They use these on Marvel movies. This is upper tier. I grin every time I see the Bolt."
Free has started using the Bolt in recent projects, as shown below. He talks about his experiences using it above.