The expansion of the studio facility increases the site size to 17 acres. The stages are set to open in two years.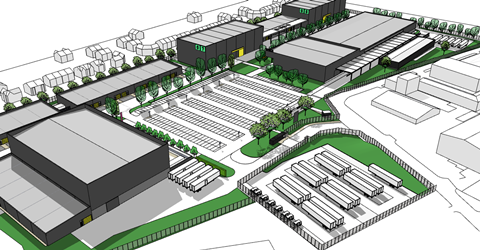 Space Studios Manchester is adding two new 20,000 sq ft stages with supporting accommodation. The move increases the size of the Space Studios Manchester site to 17 acres, with 105,000 sq ft of stage space across 8 stages.
The studio complex opened in 2014 and has housed productions including Peaky Blinders and Alex Garland's Devs.
The expansion of the studios comes at a time when film and TV production is increasing in the Manchester area, which now sees close to 700 filming days a year and produces an on location spend of around £6.5m.
The design work for the proposed new stages will begin in the autumn, with a target date for planning approval of summer 2021.
The aim is for the construction on the new stages to begin in autumn 2021, and for them to open a year later, in autumn 2022.
Colin Johnson, MD of Space Studios, said: "The UK tax break and the ever-growing need for content from streaming services has meant demand for studio space in the UK has been at an all-time high. Having the studios here in Manchester has meant we can capitalise on that demand and provide jobs and opportunities to local people and businesses. We are really excited to continue to build on that growth and really establish Space Studios as the home for high-end TV Drama."
Sir Richard Leese, leader of Manchester City Council, added: "Manchester has historically been viewed globally as a hub for creative activity and artistic and technical leadership. Nowhere is this more apparent than in the world of film and TV production. Manchester has proven just how much it has to offer to the people who make the entertainment we enjoy and so now we can look at expanding the Space Studios site. This in turn will offer opportunities for increased economic growth and importantly employment in the sector for the people of the Manchester City region and beyond."