East London post house sets up its first regional office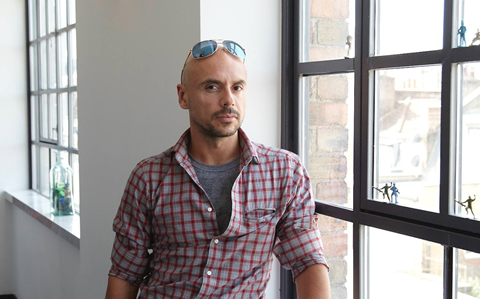 Splice is setting up a major new £1m post-production premises in Cardiff. The 30-room, 7,800 sq ft facility is the east London-based post house's first move outside the capital and is on a larger scale than its headquarters in Perseverance Works, Shoreditch.
The driver for setting up the facility is a combination of three things, according to company director Damian Dolniak (pictured above): "It's incredibly close to the new BBC Wales headquarters; it enables us to regionalise our services; and it's about Cardiff itself, which is a great city to live and work in.
It's by the sea and has a modern, cosmopolitan feel about the place. There are loads of outside cafes, bars and restaurants. I grew up in Cardiff, so I know it really well."
He added: "The Severn Bridge is also removing tolls this year, which will encourage greater travel between Cardiff and Bristol."
Dolniak said the building is "on an incredible site. It's a state-of-the-art facility in the city centre, right next to the Principality Stadium, just down the road from Cardiff Central train station and a stone's throw away from the BBC."
Big presence
There are relatively few post-production companies in Cardiff, so Splice will immediately establish itself as one of the larger players. The biggest Cardiff-based operation is Gorilla, which has a substantial presence in the city. Bristol-based Films at 59 also has an office in Cardiff, as does London's The Look, which recently teamed up with Cardiff post house Bang to offer picture post facilities.
Splice's Cardiff base will be an all-Avid facility, providing offline and online rooms running off Avid Nexis storage. It will also have some audio rooms, although the exact breakdown of rooms hasn't yet been decided.
"We'll also add services to Cardiff as and when there's client demand for it," said Dolniak. "We'll have a fibre connection between Perseverance Works and Cardiff, so we will be able to collaborate across buildings.
"Clients will be able to access content from anywhere via Avid's cloud platform, as well as MySplice, a proprietary software we've created to make things simpler for the client."
As well as post-production facilities, Splice will provide production offices for clients within the Cardiff building. "Around 60% of the building is for post and the other 40% is production space.
If a production company needs space in Cardiff, we'll be able to accommodate it," said Dolniak.
The facility will be staffed by a mixture of local talent and people relocating from Splice in London. Louise Sutton, who was previously senior post-production co-ordinator at BBC Wales, will take on the role of facility manager. The operations manager role has been handed to Sam Linforth, who was previously post-production supervisor at The London Studios.
The production spaces at Splice Cardiff are available now, while the post facilities will be phased in over the next two months.