Yelena Makarczyk is now VP of localisation and post-production and Adam Hewes joins as chief technology officer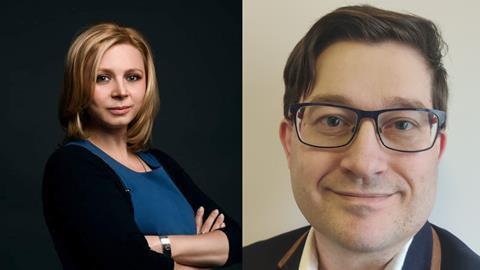 Take 1 has made two appointments to its senior leadership team, with Yelena Makarczyk becoming VP of localisation and post-production, and Adam Hewes now chief technology officer.
Both will report to CEO Louise Tapia when they start on 1 April, and will be based in Los Angeles and the UK respectively for the transcription, translation and access services provider to the media and entertainment sector.
Hewes joins Take 1 after over 17 years in the industry, including time at Scripps Networks International as the broadcast systems architect, and at TVT as the senior technical manager for media technologies. Most recently, as head of technology at OTRO Global Limited, he was responsible for all aspects of production and delivery technology infrastructure, including a substantial project to implement federated cloud media workflows hosted on the Amazon Web Services (AWS) platform.
At Take 1, Hewes will oversee the next stages of Take 1's technology strategy, including the migration of internal workflows and client-facing services to the cloud, driving forward the API strategy to allow rapid connectivity from and into Take 1's systems, and the deployment of AI technologies into Take 1's processes.
Meanwhile, Makarczyk takes up the newly created VP of localisation and post-production role after serving as creative director at SDI Media, VP of multi-language operations at VITAC and director of localisation and post-production at CMI Media Management. Last year, she launched over 400 new film and broadcast localisation projects while working as director of localisation at Los Angeles Distribution and Broadcasting.
Makarczyk will work across operations, resources, strategy, product and business development to drive transformation into new areas of expertise, in particular relating to localisation and post-production services.
CEO Tapia said: "These appointments are an important step in Take 1's journey as they will enable us to accelerate our technical development and expansion into localisation and post-production services to meet the growing needs of our M&E client base.
"In addition to the obvious benefits that Adam and Yelena's individual skillsets and experience will provide in these areas, their appointments also represent the international distribution of Take 1's senior leadership team and support our global growth strategy, taking content further through cloud-enabled media services."