Take a look at how Dancing On Ice returned to TV screens during the pandemic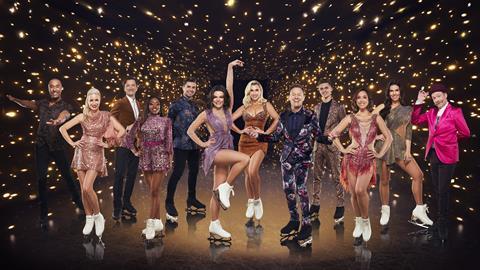 The Collectv has revealed its work on the live broadcasts of Dancing On Ice latest series, which is being filmed mid-pandemic.
The show returned to screens on ITV last Sunday, 17 January. It is filmed at Bovingdon Airfield, and is remotely produced at ITN Productions. The Collectv provides media management, integration, and support on location at Bovingdon, making sure material gets to the main broadcast OB, and to the production team in London for social media clips, VTs, etc.
The Collectv provides an Avid station on location for ingest, QC, and rapid editing in case of changes during the live broadcast. In addition, there is Avid Nexis storage for handling VTs from the edits and to stream onto when the show is on air. This is linked in turn to multiple EVS units running IPDirector and XTAccess provided by host Outside Broadcast provider Telegenic. Connectivity between Bovingdon and London is provided by NEP Connect via a 10GB pipe.
The workflow can also work in the opposite direction, with the London-based team watching the live feed to pick out stories that are developing outside of the main show. The Collectv team can then find and clip up the specific ISO (ISOlated camera feed) featuring the footage and get it into the edit. This is planned with Telegenic to ensure the EVS servers can handle both the live broadcast and The Collectv's post teams.
Managing director of The Collectv, Chris Sarson, said: "We have the ability to stream or clip up the clean or dirty TX streams on any number of the camera feeds. When on-site, we remain in constant communication with the post production supervisor for Dancing On Ice, Daniel Searle, and ensure we have the correct version of each VT. If they're being edited close to transmission, we liaise with production and the EVS operators on-site to help ensure the right content gets to air."