The move merges the sister companies and extends Ghost VFX's global presence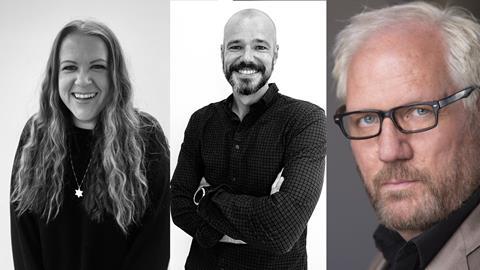 The VFX wing of The Farm Group, FarmFX, is being rebranded and merged with Ghost VFX, the global visual effects brand of The Farm Group's owners, Streamland Media.
The former FarmFX, now Ghost VFX, provides VFX, animation and motion graphics services for high-end TV and advertising.
Ghost VFX has worked on 200+ feature films, TV productions and commercials.
The move by Streamland Media to expand the Ghost VFX brand into the UK "further solidifies its market presence as a full-service international VFX house while also establishing UK offices in London and Manchester," says the company.
Ghost VFX president Tom Kendall (pictured, above right) will manage the global team from the brand's Los Angeles headquarters.
Anna-Louise Gordon, head of VFX UK (pictured, above left), will continue to oversee day-to-day operations under the new brand. Matt Richardson, creative director/VFX supervisor UK (pictured, above middle), will supervise all VFX projects.
Streamland Media group of companies include Picture Shop, Formosa Group, Picture Head, Ghost VFX, The Farm, and Finalé, with locations in the US, Denmark, Canada, and the UK.
Streamland Media CEO Bill Romeo said: "The integration of FarmFX and Ghost VFX is the latest in a series of important moves for Streamland Media and its group of companies as we further strengthen our industry-leading position. Our global network of award-winning teams allows us to provide the most innovative solutions while being able to meet the needs of our clients wherever we can service them most effectively."
Kendall added: "The FarmFX division has grown rapidly over the years from providing notable VFX contributions to also securing many important independent projects which have helped solidify their industry reputation. Their impressive work and passion for creativity will provide many synergies, and they are a welcomed addition to our global VFX team."