In-house team reaches the end of its series of experiences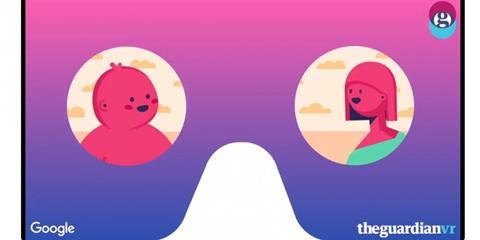 The Guardian has reached the end of the line with its Virtual Reality (VR) work, having released what it says is the last of its series of VR "experiences".
The final VR project from The Guardian is Songbird, which is an animated production the publisher describes as a fairy-tale with a dark heart. It's available on its free Guardian VR app and as a 360 film on YouTube.
The hand-painted artwork and animation of Songbird was created by Uri and Michelle Kranot of the production studio TinDrum. Henrik Oppermann created the spatial soundscape, built on recordings of extinct birds. Siân Phillips narrates the piece.
Spongbird follows The Guardian's modern dance VR project in association with Sadler's Wells, Celestial Motion, which came out in April.
It's the 13th VR creation by The Guardian's in-house VR team, which first set up in 2016, led by Francesca Panetta, executive editor, virtual reality and Adam Foley, commercial strategy director.
Other projects include a 360-film called Limbo, about waiting for asylum, and First Impressions, a first-person perspective of what is like to be a baby.
"Each has been an experiment in form and storytelling," says Panetta. "We truly believe it is some of the best non- fiction VR out there."
She adds that Songbird is "the final piece in the series" and "we've reached the end of our current series of VR experiences" before signing off by saying "The Guardian VR: see you soon."