Channel 4 shows find new home following closure of The London Studios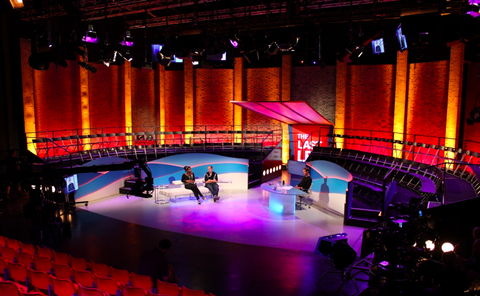 BBC Studioworks is providing studios and post-production services to Channel 4's The Last Leg, and ITV2's Love Island: Aftersun.
Both shows were previously based at The London Studios (The Last Leg set is pictured above), which recently closed for redevelopment.
The Last Leg, produced by Open Mike Productions, will broadcast live from BBC Studioworks' 10,800 sq. ft. Studio TC1 at Television Centre this summer.
BBC Studioworks is also providing operational and technical support, and supplying EVS tapeless recording and HDC-4300 cameras for the eight-camera set-up.
The production team is also making use of BBC Studioworks' onsite post production services for the show's on-the-day VT editing via an Avid Symphony online suite. Viewing files of the VTs and show records will be delivered to the client via the cloud.
ITV Studios' production, Love Island: Aftersun, will be based at Elstree in Stage 8, BBC Studioworks' 7,550 sq. ft. facility. The production will involve live links to Mallorca via Skype.
The production team will also make use of BBC Studioworks' post production village in Elstree for the UK-end of the VT and reversion editing for all of the Aftersun shows, whether live from Elstree or Mallorca.
"2018 has seen Studioworks further broaden its live studio broadcasting across a range of genres, and we are increasingly seen by clients as a preferred provider when it comes to live or complex productions," said David Conway, Managing Director BBC Studioworks.