Welsh producer upgrades its audio production with new Solid State Logic audio console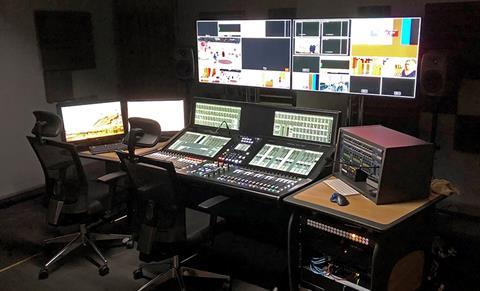 Welsh producer Tinopolis Cymru has upgraded its audio production with the installation of a 32+2 fader System T S500 console from Solid State Logic.
The new console is being used on Tinopolis daily primetime Heno (Tonight) and afternoon magazine show Prynhawn Da for S4C, alongside a range of other live and post production work. Three studio spaces at Tinopolis are all connected via a Dante network to the console.
The System T S500 control surface is connected to a T25 Tempest Engine and can be used with any of the three networked studios, each with SSL Network I/O stageboxes featuring remotely controllable SuperAnalogue mic preamps. Also connected to the redundant Dante network are SSL Network I/O SDI, MADI and AES units to provide connectivity in the machine room and a Network I/O A16.D16 for the mix of analogue and digital connections required in the control room.
"The new set up will handle everything from magazine shows, to chat shows, to music items from full rock bands to solo musicians," said Gareth Evans, senior sound supervisor and deputy head of technical staff.