Leeds facility expands to capitalise on Channel 4's decision to locate national HQ in the city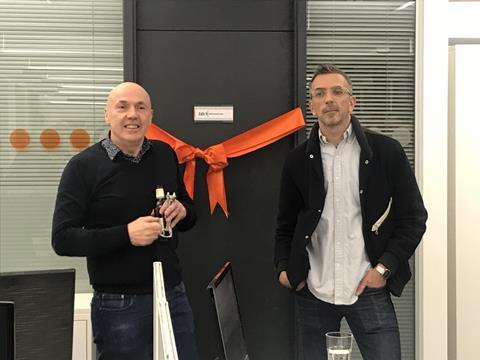 True North has responded to Channel 4's decision to locate its national HQ in Leeds with a major expansion of its post-production facilities.
The company has added nine suites, increasing its capacity to 28. This comprises 21 offline rooms, five finishing suites and two dubbing theatres (one pictured below). Two of the finishing suites are equipped for 4K.
The expanded True North Post was officially opened by Channel 4 head of factual Danny Horan on 12 February (pictured above).
True North co-founder and creative director Andrew Sheldon said the expansion is a response to growth at the indie and is also part of a strategy by the facility to position itself as the go-to place for post in Leeds in the wake of C4's decision to open an office in the city.
The company is planning the launch of a True North Post website, specifically aimed at external clients. Sheldon said True North is aiming to be much more pro-active in attracting external post-production work and will provide full post support to clients.
The expansion makes True North's Leeds office one of the biggest facilities of its kind outside of London. The office also has space to house production teams.
Currently, the company's post operation handles around 200 hours of production a year, the majority of which are True North shows, including The Pets Factor for CBBC, A New Life In The Sun for Channel 4 and Say Yes To The Dress for Discovery.
Sheldon said: "With Channel 4 moving to Leeds, there has never been a better time to be an established production company in the city, and Marshalls Mill is a brilliant location to take advantage of the opportunities that lie ahead."
During the Channel 4 tender process, a shortage of editing capacity was highlighted as a business risk to the city, prompting the Leeds City Region Enterprise Partnership to include support for establishing and expanding existing post facilities in its final bid.
Discussions are also under way about supporting the training of a new generation of production staff, with the initial focus on a significant rise in the number of editors.
Also in Leeds, a second post house, The Other Planet, has recently expanded and now has 18 Avid suites.
Key indies in the Leeds region include Rollem, Daisybeck, Duck Soup, Air TV, True Vision Yorkshire and Warp.
C4's presence is expected to lead to a number of indies setting up in the city. Workerbee, the new name for Endemol Shine North, is launching a Leeds office, while Liverpool's Lime Pictures is setting up a non-scripted label with Shiver founder Mark Robinson.