Littlewoods Studios expected to generate more than 570 jobs
London-based production house Twickenham Studios has agreed a major deal to build a £50m facility in Liverpool.
Property developer Capital&Centric, which owns the Littlewoods building in the east of the city where the facility will be housed, has struck an agreement with Twickenham to raise funds to build on the 85,000sq ft site.
The proposed Littlewoods Studios will feature two new 20,000sq ft sound stages plus supporting workshops, wardrobe and prop storage, and offices.
An undisclosed amount of private equity is already in place and Capital&Centric has also received a £4.95m grant from Liverpool City Region Combined Authority out of its Local Growth Fund.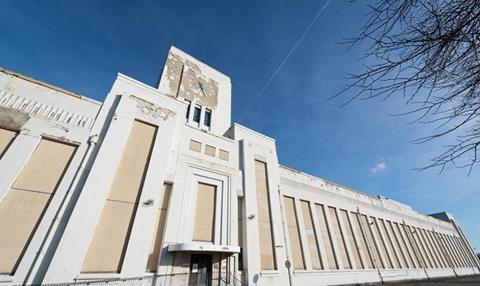 The project is expected to generate more than 570 jobs and to support some 2,000 further jobs in the region, providing a boost of up to £124m to the local economy, according to statistics drawn up by economics firm Ekosgen.
Subject to planning permission, the studio could be up and running as early as 2020. It would potentially be a significant boon to film and television production in the north of the UK.
Twickenham Studios, originally established in 1913, has recently housed TV productions including BBC1's McMafia and Three Girls and Netflix's Black Mirror, plus movies such as Baby Driver and The Martian.
The London facility has three sound stages which are 7,500 sq ft, 2,000 sq ft, and 5,551 sq ft in size.
News of the facility comes as Liverpool bids to house Channel 4's national headquarters or one of its regional creative hubs as one of the cities named on the broadcaster's shortlist for its new out-of-London bases.
Inward investment in UK film and television production continues to hit record levels. In 2017, the figure was £1.9 billion, a 12% increase on the previous year. Projects from US studios to shoot in the UK included Tim Burton's Dumbo, Ron Howard's Solo: A Star Wars Story, Guy Ritchie's Aladdin, and Christopher McQuarrie's Mission Impossible 6.
"This is a major milestone in our history," said Maria Walker, chief operating office of Twickenham Studios. "When we saw the vision for Littlewoods we knew we had to be a part of what will be an incredibly special place.
"Liverpool's architecture, accessibility and can do attitude sees film-makers return to the city time and time again. With the added benefit of our studios, they'll have access to gold-standard interior facilities right on the doorstep of unique exterior locations. It will be great to see Liverpool become an international focal point for TV and film."
Liverpool mayor Joe Anderson added: "The arrival of such an iconic film production company as Twickenham Studios to Liverpool is a fantastic vote of confidence in the city's booming film industry.
"We have huge plans for the Littlewoods site and have been working very closely with Capital%Centric to make these ambitions a reality. This deal will no doubt act as a catalyst to attract other leading lights to the city which will further develop Liverpool's strong foundations in the creative sector."
Capital&Centric co-founder Tim Heatley said: "Littlewoods is one of Liverpool's most loved buildings – it's only fitting that we give the city something they'll be proud of. Twickenham Studios couldn't be a better fit. They'll bring a century's worth of film-making heritage and help to write a new chapter for the creative industries in and around Liverpool."