Extensive report lays out guidance for post-production and VFX houses to offer a safe working environment post-lockdown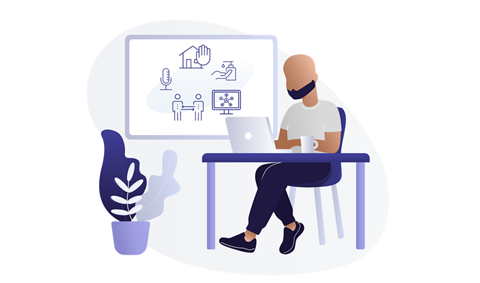 UK Screen Alliance has published guidance for post-production and VFX houses looking to re-open following the coronavirus lockdown.
The report, called 'Guidance for safe working in Post-Production and Visual Effects during the COVID-19 Pandemic' has been created in consultation with post and VFX houses; several US Studios; industry bodies British Film Institute, British Film Commission, Pact and BECTU; and the UK government.
While post and VFX houses haven't been required to close during lockdown, many have chosen to shut up shop and temporarily move to a remote-working model, or have kept a skeleton staff working in the office.
The guidance aims to provide a framework for companies as they transition back to on-premises working with clients, while ensuring the safety of employees, contractors, and clients.
You can download the report here.
Neil Hatton , CEO, UK Screen Alliance, said: "Post-production and VFX never closed. The guidance for post and VFX will be a living document; currently a statement of current best practice, and it will evolve into a route map back to on premises working whilst ensuring the safety of our employees, contractors and clients."
Sir William Sargent, CEO , Framestore, added: "This document is a major contribution to getting our community back to work in a safe and productive environment. The speed and contribution from all parts of our sector shows commitment and solidarity at the same scale as the world class standards we all operate at."
Alex Hope co-founder, DNeg, said: "The speed and thoroughness with which these guidelines have been produced demonstrates the extraordinary level of cohesion and integration found in the UK's screen sector."
Rich Moss, MD, Gorilla TV, said: "Gorilla TV welcomes this industry guidance from UK Screen Alliance and is pleased to add our endorsement to this comprehensive document. Although Gorilla has remained operational throughout this crisis, a staggered 'return to work' brings its own challenges which can be managed through use of this guide which we hope will help bring a level of normality to our Industry in the future."
Lucy Ainsworth Taylor, CEO, Bluebolt,said: "It is essential we do not lose the creative collaborative environments we had pre-Covid 19. This guidance will advise you on how to apply government advice and bring safety into your office environments."
David Klafkowski, CEO, The Farm Group, said: "I've been very concerned that everyone returning to work feels as safe as they possibly can. Even if the risks are low, employees and clients may well be anxious. UK Screen Alliance's efforts in the creation of this guidance go a long way in providing this reassurance that our industry is getting back to work while taking the right steps for the health and well-being of everyone."