The post-production house makes its first move into high-end episodic TV drama and comedy with a dedicated team of post specialists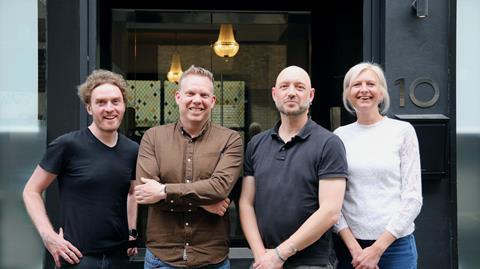 Unit has launched a new division offering full picture post-production for high-end episodic TV drama and comedy.
Unit Scripted provides end-to-end services for the episodic market, including colour grading, online and online VFX, complementing Unit's existing high-end VFX and CGI offering.
As part of the launch, Unit has appointment a number of new key talent.
Louise Stevenson joins Unit as head of scripted. She started as a runner 20 years ago, before working her way up from junior producer to senior and eventually moving into sales. Her credits include His Dark Materials, Black Mirror, Chernobyl, The Wheel of Time and Vera.
Dan Coles has also joined, as senior colourist. He has received numerous nominations in recognition for his work, and has won two RTS Awards for The Eichmann Show and Battle for Haditha. His recent work includes Ten Percent, The Tourist, Avenue 5, The Electrical Life of Louis Wain, Grantchester & Vera.
Additionally, Sîon Penny becomes head of online. He joined the industry in 2003, starting as a runner with Stevenson before progressing to MCR, then to online editor. His projects include His Dark Materials, The Tourist, Sanditon, Flowers & VEEP.
Unit has also taken on post producer, Greg Elston, who has 18 years of industry experience across QC and mastering and operations, before moving into production. He has worked on Black Mirror, The Pale Horse, Brave New World, Rashash and Roadkill.
Stevenson said: "I am really excited to be working at Unit and establishing a long-form scripted post department here. Dan, Sîon and I were really keen to go back to our 'Pepper' roots, working at a bespoke boutique facility offering high end creative solutions, and with the explosion in television production over the last few years, it felt like the perfect time to make the move and start building a successful and diverse long form team.
"Unit has a fantastic reputation in short-form and large-scale VFX, which we look forward to complementing. The facility in Berners Mews is contemporary, whilst at the same time personable and homely. We hope our clients love it as much as we do, and that Unit will be somewhere they will want to hang their hat for years to come!"
Unit managing director, Ian Luxford, adds: "With over 80 years post-production experience between them, Louise, Dan, Sîon and Greg are true heavyweights in the world of scripted drama post-production. Having personally worked with Lou, Dan and Sîon for many years at Pepper, when we decided 12 months ago to expand our long-form VFX offering into picture post production and finishing, it was an absolute no-brainer that this was the team to help us achieve our goals."