The two 'state of the art' virtual studios are in Heaton Mersey, Stockport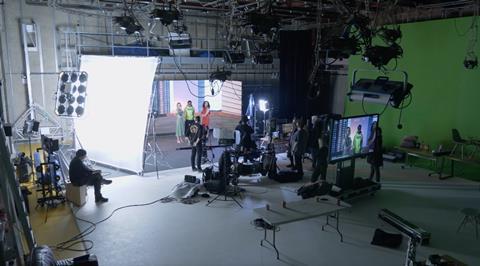 North West television studios, Vectar Project, has upgraded its facilities to create two virtual production spaces.
The newly refurbished studios now provide real-time virtual production, combining live action footage and CG or photo-real backgrounds in real-time, using green screen, LED screens or mixed reality stages.
Vectar Project is pitching the studios for commercials, film and TV production and live events such as virtual conferences.
Virtual studios reduce the need for set builds and worldwide travel and for visual effects to be added in post-production.
Vectar Project is working in partnership with local companies on the delivery of its virtual production services. These include Martin Riley, production consultant and director at Lion Eyes TV, who is providing technical production co-ordination. VFX supervision and post-production co-ordination is from ReverberationVX, while No Drama is supplying the cameras, camera support and lenses, and LED-shed is supplying the LED screen technology. The motion control is provided by Mark Roberts Motion Control.
To tie in with the launch of the virtual studios, Vectar Project has also unveiled the 'Green Days' initiative, offering free pre-production support and studio access for a number of small productions.
Priority will be given to projects that focus on climate change and are dedicated to saving the planet's resources and upholding a green policy.
The aim is for the virtual sets, along with other enhancements including LED lighting powered by the sun and paperless production, to provide "no-energy" filming.
Vectar Project launched two years ago, growing out of the former Z Film Studios complex. Its clients include the BBC, ITV, Amazon Prime, and productions that have shot content there include Big Talk Productions' Cold Feet and Saffron Cherry's The World According to Grandpa and films including Genesius Pictures' Mrs Lowry & Son.
Vectar Project managing director Tom Henderson said: "The film industry has done so much to create awareness of the damage we are all doing to our planet, but it is often as guilty as anyone of wasting resources. The pandemic has forced us to rethink the ways we do things and the Vectar project is adopting methods to help productions to specifically address these issues.
"Remote frame accurate, real-time monitoring of films on our stages is a viable alternative to global travel. Building reusable virtual sets and digital location backdrops for use in greenscreen and LED XR studios is a viable alternative to building and scrapping sets and working on outdoor locations. It does require rethinking the production approach, however, climate destruction leaves us no choice. We can only change the world if we change our own world first. I truly hope at Vectar Project we can be part of the solution."