Vevo Pop is the first Vevo channel available in the UK on the platform, with further genres to be explored.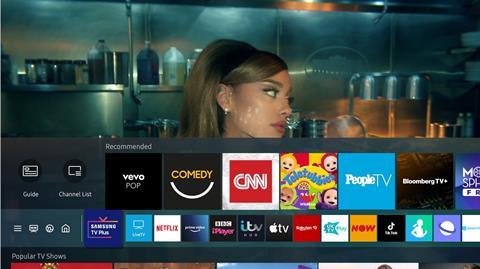 Vevo has launched Vevo Pop, an ad-supported linear channel, on Samsung TV Plus in the UK.
The channel will feature pop-genre music videos, with channels broadcasting other genres to be explored later this year.
Vevo had already partnered with Samsung in the US in 2019, but this marks its first move with the electronics company in the UK. Samsung TV Plus comes pre-installed on Samsung TVs since 2016, meaning that Vevo can now reach millions of British users. Further European launches are planned for 2021.
Kevin McGurn, president of sales and distribution, Vevo, said: "In the US, we partnered with Samsung TV Plus during the early days of our OTT expansion. Today, they are one of our top performing television experiences, with tens of millions of viewers across Vevo channels daily. We are excited to build on this success and do the same in the UK and Europe, but with more localized curation."
Richard Jakeman, European head of business development – smart TV, Samsung Electronics, added: "With their vast, premium library featuring world-renowned artists and top hits, Vevo are the music video curators, and extending our partnership with them outside of the US was the logical next step given the success of their channels in the US to date. Through Vevo we are excited to now provide a linear lean-back music video viewing experience to more households in the UK."
Image courtesy of Samsung